Former Teammate Lauds LeBron James' son Bronny James, Predicts a Face-off in the NBA
Published 10/25/2020, 1:18 PM CDT
---
---
LeBron James and Dwyane Wade go way back. They both share a relationship that has survived the better part of two decades.  They have been opponents in the Eastern Conference for 11 years and teammates in the Miami Heat for 4 seasons. Despite many difficulties and with rumors about their drift, they have been there to support each other through thick and thin.
ADVERTISEMENT
Article continues below this ad
Wade and James made their way into the NBA in 2003. And although Wade retired, LeBron is in his 17th year in the NBA and still very much in his prime.
He just led the Los Angeles Lakers to their 17th Championship after a decade, and it seems like LeBron is thirsting for more.
ADVERTISEMENT
Article continues below this ad
But wait, is there a chance that someone else will step into LeBron's shoes? Well, how about his own son, Bronny James? Dwyane Wade thinks the way LeBron is playing, he could play with or against his son as well.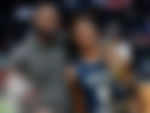 LeBron James has the potential to play for eternity
On ESPN's 'First Take', Wade raved on about how much he aspired to always reach the level of greatness that LeBron and Kobe Bryant exhibited. Making a hysterical comment about LeBron's run in the league, he said, "Once LeBron retires, people are going to forget that we were even teammates like he's going to play that long."
They discuss how it's quite possible LeBron will end up playing with or against his son. However, Wade stated, "You don't want to put pressure on a young kid.
ADVERTISEMENT
Article continues below this ad
"But I think if you were in the James family, you're chosen. And I think Bronny handles it as well as you can handle it as a young kid in the spotlight his entire life, obviously with the name of his father.
"And his basketball talents speak for itself. The kid is a very good player. He's going to be a professional basketball player one day, and you hope that LeBron James is around. We all want to see that moment."
Nobody would want to miss out on that. It'll be an iconic moment in the history of all existing sports. Considering the way LeBron plays to this day, we won't even be surprised if that happens.
ADVERTISEMENT
Article continues below this ad