Former Teammate Reveals How LeBron James & Dwyane Wade's Comments Motivated Dirk Nowitzki to Win the 2011 Title
Published 05/13/2020, 3:01 AM EDT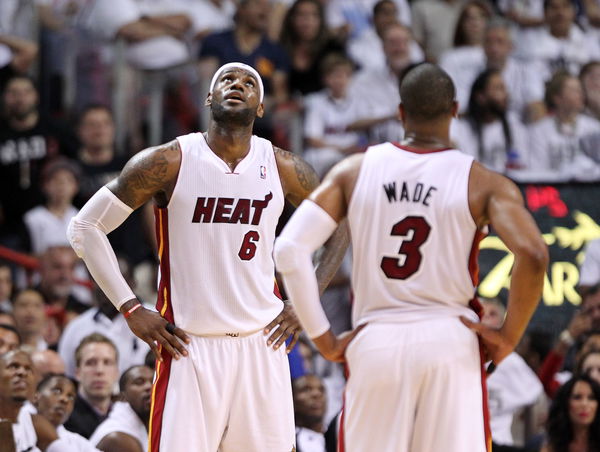 ---
---
Former NBA player Caron Butler believed Miami Heat would have won the 2010/11 NBA title had LeBron James and Dwyane Wade not mocked Dirk Nowitzki.
ADVERTISEMENT
Article continues below this ad
After four games in the Finals series, Heat and the Mavericks had won two games apiece. Nowitzki showed flu-like symptoms during the fourth game and James and Wade decide to have some fun around it. A video of the two Miami Heat stars mocking Nowitzki's illness went viral on social media at that time.
Butler, who was with the Mavericks then, revealed that it motivated Nowitzki even more to win the title.
ADVERTISEMENT
Article continues below this ad
"Me personally I did not for the life of me, for the life I did not think that Dirk was going to be able to play. And I'll never forget him being mocked by a good friend of mine, the godfather to one of my kids, Dwyane Wade, and LeBron James.
"We saw the video, like we saw the visual, of them coughing and making fun of the whole situation," he said as per a video obtained from Fox Sports Southwest on Twitter.
LeBron James and Dwyane Wade only amplified Dirk Nowitzki's motivation
Nowitzki, by then, was into his 13th season in the NBA. He had established himself as one of the best in the league by then. However, he did not have a championship to his name.
He had eight All-Star selections and an MVP award. But he was motivated to win a Championship. The mocking from his opponents, Butler said, only added to his motivation.
ADVERTISEMENT
Article continues below this ad
"That moment right there when that happened and I just seen his focus, he was already dialed in but he just took it there. I was like it's a wrap. Y'all just won us the championship. I was like thank you, thank you for doubting him and mocking him in this moment because like he's just dialed in on a whole nother level now," Butler said.
ADVERTISEMENT
Article continues below this ad
Playing through his sickness, Nowitzki led the Mavericks to the title, winning games 5 and 6. He also won the Finals MVP award for his efforts. Nowitzki retired only last year after having played 21 years for Dallas Mavericks.