"Get the F**k off the Court.": When Michael Jordan Trash Talked on the Sets of Space Jam
Published 05/09/2020, 4:50 PM EDT
---
---
Michael Jordan is certainly one of the greatest players to step foot on the basketball court. The tales about him keep on coming, and they never get dull. While we know about MJ's notoriety to trash talk on and off the court, this habit of MJ sneaked into his movie sets as well.
ADVERTISEMENT
Article continues below this ad
The Jumpman played the lead role in the 1996 movie Space Jam, which also featured other NBA stars. Jordan, being the most popular player on earth, was called by the Looney Tunes to defeat the 'Monstars' in their match for freedom. 
This scenario fits in between Jordan's first retirement from the NBA and his comeback in 1995. Naturally, Jordan had extras on the movie set to film with. Keith Gibbs, who played the role of an extra on the film, opened up about his experience filming with the Bulls star. He spoke to Grantland's Jason Concepcion in 2015, about his favorite moments from the set of Space Jam.
ADVERTISEMENT
Article continues below this ad
Michael Jordan spared no one with his trash-talking
ADVERTISEMENT
Article continues below this ad
When it comes to trash-talking, MJ is the undisputed king. He can totally dismantle you with his choice of words. But his choice of words are as colorful off the court as on it. Gibbs narrated an incident when he faced the heat from the Jumpman. 
"I had to guard Reggie Miller and Michael Jordan in back-to-back games. It was so bad. I was friends with Chris Mills and Tracy Murray — we had been to some camps together. One play, I got switched onto Jordan, because Chris was like, "Keith, you take him." Jordan hit a 35-footer on me. I mean, it was ridiculous: leg out, tongue out, all that stuff … hit a 35-footer on me and goes, GET THE F–K OFF THE COURT."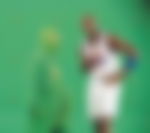 ADVERTISEMENT
Article continues below this ad
It is extremely hilarious to know that no matter who you were, when Michael Jordan gets competitive, he will talk trash to you. That is just who he is. The best part is he goes about doing it so smoothly that even the player on the receiving end will take it as an honor. 
Gibbs even mentioned the greatest pickup game he's been part of. "I walk in, and it's Reggie Miller, Charles Barkley, Alonzo Mourning, Charles Oakley. Grant Hill shows up. Jerry Stackhouse shows up. Now, all of a sudden it's an NBA All-Star pickup game. Every night. I did that for about a month and a half, two months."