Giannis Antetokounmpo Breaks His Silence on Kobe Bryant Following the Tragedy
Published 01/28/2020, 2:03 AM EST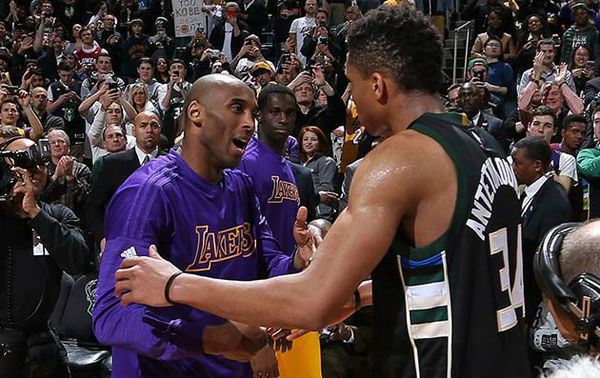 Giannis Antetokounmpo made his NBA debut on October 13, 2013 at the age of 18 years. Kobe Bryant's sudden  death completely destroyed him. He is one of the many players who are devastated by the news of NBA legend Kobe Bryant's tragic death. The young Greek basketball player plays for the Milwaukee Bucks. He publically claimed that Kobe Bryant was his role model and mentor. Giannis Antetokounmpo trained along with Kobe Bryant ahead of the 2018 season. Which saw the former end up as NBA MVP while playing for the Bucks.

In the last couple of years, their student-teacher relationship was well documented. Giannis Antetokounmpo deleted all of his social media including instagram and twitter in mourning. This was probably because he needs time to process his mentor's sudden demise. The Black Mamba inspired him immensly According to Giannis, he started playing basketball because of bryant.

Giannis Antetokounmpo speaks about the impact Kobe Bryant had on his life:

While talking about the tragedy publically for the first time, Giannis told the Milwaukee Journal Sentinal,

"I grew up with Kobe," Antetokounmpo said. "Kobe influenced my life. Looking up to him, one of the reasons I started playing basketball. One of the reasons that I am here today."
"Actually, I'm just trying to keep it private how I feel," Antetokounmpo added after practice when asked how he is feeling. "I feel it's up to me. Everybody deals with tragedy in their own way and I dealt with tragedy a few years ago about my dad. I didn't come out and speak about it all. All I can say is I pray for the people that were affected by it. Yesterday was a horrible day for basketball, for everybody. A lot of people were really affected by it. I send my deepest condolences to their family, Vanessa and the kids that they leave behind. All I can do is pray for them."
"At first you're thinking, like, what I was thinking is that I go out there and hopefully it can make me feel better. It made me feel better when my dad passed away," Antetokounmpo said. "But at the end of the day you think to yourself, is this worth it? Playing basketball for 20 years and then living for 3½ and then being gone, is actually going through all this pressure, all this media, all this, is this actually worth it? Everybody has a different situation. For me, it's definitely worth it and that's why I'm going to keep being 100%, whatever I do I'll do it 100% because without basketball I wouldn't be here today. It definitely made me feel a little bit better, but obviously, just him not being here and his daughter not being here it's kind of hard."

How Kobe Inspired Giannis Antetokounmpo

"How did Kobe inspire me? Just work hard, be fearless, don't really care about what people have to say about you, just go out there and do your job, have a smile on your face," Antetokounmpo said.

"You're going to have to sacrifice a lot, a lot of family time, obviously, to play this game, but your family knows why you were put on this Earth, why you play this game, which is to provide for them because that's what you're born to do.

"Kobe means greatness. … He always had that smile, he always had that charisma that he carried with him. I think it touched a lot of people in the world.".