Giannis Antetokounmpo Drops Major Hint on Social Media about His Future with Milwaukee Bucks
Published 09/16/2020, 6:15 AM EDT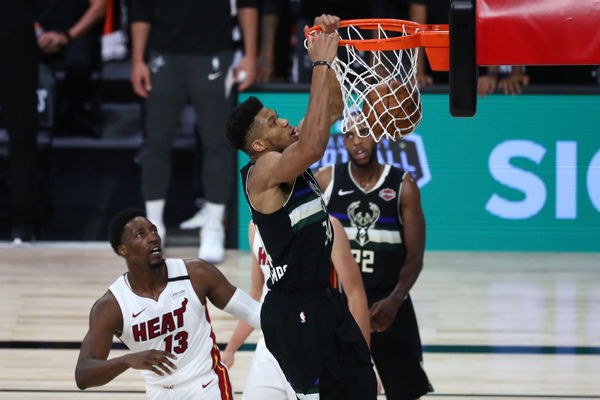 ---
---
This off-season is a very critical time for the Milwaukee Bucks organization. They lost their contention to win the NBA title yet again. But they certainly won't want to lose their most lethal weapon, Giannis Antetokounmpo to any other team.
ADVERTISEMENT
Article continues below this ad
The Greek Freak is all set to become an unrestricted free agent in the 2021 off-season. The 6'11" tall man with a 40-inch vertical jumping ability is a rare breed. He has already won the Defensive Player of the Year 2020 award and is the favorite to win this year's MVP award as well. He is the Bucks' best chance to win their maiden title after 1971, back when they had Kareem Abdul-Jabbar. 
Will Giannis Antetokounmpo consider staying back?
ADVERTISEMENT
Article continues below this ad
Not once has the 25-year-old ever shown his interest in joining any other team in the league. He is a man of his words, a true team player, and a leader who practices what he preaches. Giannis recently made a Twitter post that gave a hint that he might not consider a move this trade season.
Optimistic fans will take this to mean that the star is surely going to stay. And they might be right, given Giannis' recent meeting with the Bucks co-owner, Marc Lasry. The two sat down for a three-hour lunch where they potentially discussed the recent season, the Bucks team, and their future. 
ESPN Sources: MVP Giannis Antetokounmpo's 3-hour lunch with Bucks co-owner/governor Marc Lasry on Friday covered the season, how Bucks can improve roster, Lasry confirming willingness to spend into luxury tax and agreement they'll talk again after Giannis returns from a vacation.

— Adrian Wojnarowski (@wojespn) September 14, 2020
ADVERTISEMENT
Article continues below this ad
The Greek Freak and his heart (and contract) of gold!
While many people might not have a great opinion of the Bucks squad without Giannis, the four-time All-star does not underestimate his men. He has always got the best out of his teammates and players like Khris Middleton, Eric Bledsoe, and Brook Lopez have shown enough improvement to back his faith in them.
ADVERTISEMENT
Article continues below this ad
In every scenario, the 2019 MVP award winner will attract a super-max contract his way. He can take home as high as 35% of the salary cap of the Bucks. The contract can be worthy of $253.8 million, which is way more than what any other team can offer him. The man is about to enter his prime years and it will be great for his resume to build a team from scratch and take them to win a championship. But if he does what Kevin Durant did by joining GSW, he might lose that stardom and also the credits.
A piece of good news for both Giannis and the fans is that the owner of the Bucks organization is ready to spend luxury tax to bring in better talents this season. If they manage to get Chris Paul into the camp, just imagine their chances this coming season with a hungrier than ever Giannis by their side. If you're a Milwaukee fan, keep your fingers crossed!