Why NBA Superstars Like Michael Jordan and James Harden Owe a Great Deal to Their Mothers
Published 06/16/2020, 9:13 AM EDT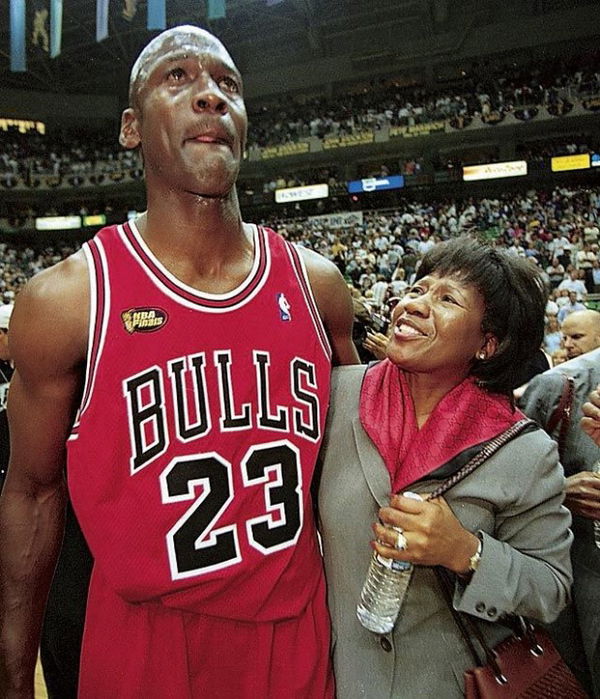 ---
---
Behind every successful man is a woman. And what better woman than one's mother herself? As the global pandemic continues to spread its negativity, we bring to you some NBA players whose mothers were their rays of hope in a dull world.
ADVERTISEMENT
Article continues below this ad
Usually rough and tough athletes like NBA players have a strong paternal foundation to fall back on. However, some elite NBA players prove that their mothers' support made them who they are.
The NBA Greek Freak Giannis Antetokounmpo
ADVERTISEMENT
Article continues below this ad
Milwaukee Bucks star player and this season's defending MVP, Giannis Antetokounmpo sure had a rough start. From being a hawker in the streets to help his parents financially, to not being recognized for a large part of his NBA career, he has seen it all.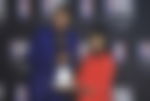 Yet, the Greek Freak believes if it wasn't for his mother, he wouldn't be one of the best players in the NBA right now. In his MVP speech last year, Giannis made it a point to appreciate his family. After thanking his brothers and late father, the 25-year-old forward payed a tribute to his mother, Veronica Antetokounmpo. He made it a point to highlight who she truly was for him: "A true hero".
"I want to thank my amazing mom, my amazing mom. She is my hero," Giannis said. "If you have a good parent, your parent sees the future for you. She always saw the future in us, she always believed in us. She is the foundation of this family. You are my true hero."
Giannis lives with his two brothers, their mother, along with Giannis' girlfriend, Mariah Riddlesprigger, and the newest addition to the family, Giannis and Mariah's kid, Liam Charles Antetokounmpo.
 The NBA Beard James Harden
Growing up in a violent neighborhood usually has a reflective impact on a child. Well, not if you have a mother like Houston Rockets' star, James Harden's mother, Monja Willis. Monja Willis raised James Harden, and his two siblings by herself in Compton. This was a neighborhood which had a reputation for gang and gun violence, and drive-by shootings.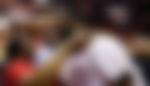 "It was pretty dangerous, like a lot of environments around the world," Harden told The Undefeated.
However, Willis wasn't one to give in to the surroundings.
"We are not friends; I am your mother. Any problem you have, I'd rather hear from you than someone on the street. It's teamwork."
James Harden is a five-time NBA All-Star and an MVP. The NBA community also considers him one of the best players in the league.
 The Michael Jordan
How can we forget the fiercest NBA player from the 90s!? NBA legend Michael Jordan became the toughest competitor the NBA has ever seen, because of how his mother, Deloris Jordan, raised him. She was part of his NBA career, his shoe signing deals, and wherever else he needed her.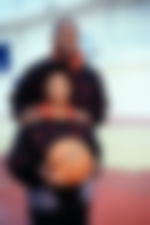 Deloris knew just how to get Jordan to stop acting out when he was a kid. She became that mother who pushed her children to perform their best. She told ESPN back in 2009,
"He tells me it would be considered child abuse today. I knew I had to set the precedent. I took him to work and made him stay in the car all day and read, I could see him from the bank window, I wanted him to know I was always watching him. We went to lunch, and then after dinner, I knew a lady at the library, so he stayed there and read some more."
Well, Mama Jordan, MJ sure knew how to keep everyone in line during his NBA career, and now we know where that came from.
 The NBA KAT-man Karl-Anthony Towns
The Minnesota Timberwolves' center, Karl-Anthony Towns, was part of a recent tragedy. The 24-year-old lost his mother to the coronavirus. As he experienced the implications of the virus on such a personal level, Towns made sure he spread awareness about its severity.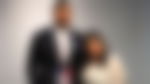 The mother-son duo shared an amazing relationship, as highlighted in the video montage that Karl-Anthony posted on Instagram, in a tribute to his mother. The 2016 ROTY lost the woman who supported him the most.
May she rest in peace.
 The Beastbrook Russell Westbrook
For Houston Rockets' Russell Westbrook, his mother is his role model. 31-year-old Westbrook, who has an MVP, a Best Style Fan Award and several other achievements under his belt, credits everything to his mother. Even his fashion style!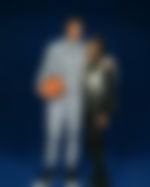 In 2017, Westbrook told Jimmy Fallon on The Tonight Show,
"My style icon is my mom. She's always swagged out. She's always kept me up to par on the fashion, on the style, and to this day, I can still call her and she can give me a nay or yay."
Westbrook expressed his feeling about his mother in a mother's day post on Instagram and revealed how her presence blessed his life.
ADVERTISEMENT
Article continues below this ad
Mothers truly seem to shape the majority of leading NBA players. We're sure no player would have it any other way.
Watch This Story
ADVERTISEMENT
Article continues below this ad