Giannis Antetokounmpo Meets Milwaukee Bucks Owner Ahead Of Trade Rumours
Published 09/14/2020, 12:08 PM EDT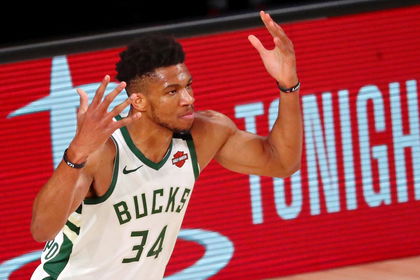 ---
---
Giannis Antetokounmpo was bound to be the subject of a lot of speculation, regardless of their Playoffs results. However, the fact that the Milwaukee Bucks and Giannis exited the Playoffs as early as they did has ramped that speculation up even more. Will Giannis stay, or will Giannis go?
ADVERTISEMENT
Article continues below this ad
Everyone in the state of Wisconsin must be praying for Giannis to ride the storm out with their team. They have him for the next season, but the question is whether they will have him in the longer run.
There have been rumors linking Giannis to trade packages away from Milwaukee, so as to prevent the odds of Giannis leaving the team with nothing in 2021. However, Giannis has said he won't ask for a trade.
ADVERTISEMENT
Article continues below this ad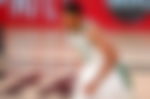 ESPN Sources: MVP Giannis Antetokounmpo's 3-hour lunch with Bucks co-owner/governor Marc Lasry on Friday covered the season, how Bucks can improve roster, Lasry confirming willingness to spend into luxury tax and agreement they'll talk again after Giannis returns from a vacation.

— Adrian Wojnarowski (@wojespn) September 14, 2020
According to Adrian Wojnarowski of ESPN, Giannis met with co-owner Marc Lasry and had a three-hour lunch. The pair spoke about roster improvements, with Lasry saying that the team is willing to spend into the luxury tax.
They are scheduled to meet again after Giannis returns from vacation.
Giannis Antetokounmpo staying with Milwaukee?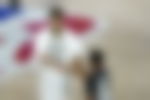 Giannis staying seems a statistical improbability. He is in one of the smallest markets in the league and is off the heels of an embarrassing playoff exit. The team paid for their off-season dealing, especially losing Malcolm Brogdon to Indiana. However, it seems like the owners want to do the right thing by Giannis.
ADVERTISEMENT
Article continues below this ad
When you have a generational talent on the roster, you have to do whatever is possible to create a position for them to have success. The Bucks' ownership has done that, but evidently something is missing. With limited cap space and weak trade assets, Bucks are between a rock and a hard place.
The fact that the Bucks' ownership is ready to spend is the biggest deal. Milwaukee isn't a market in which owners splurge, but when you have Giannis, you have to.
His exit takes a lot of the marketability of the team away as well. The team needs him more than he needs the team which is why Milwaukee will do whatever they can to keep him.
ADVERTISEMENT
Article continues below this ad
You come across talents like Giannis once in a generation, and the Bucks wouldn't want to blow this chance.