Giannis Antetokounmpo Refuses to Retire, Others Want to Become Gamers After Seeing Life Without NBA
Published 03/14/2020, 9:15 AM EDT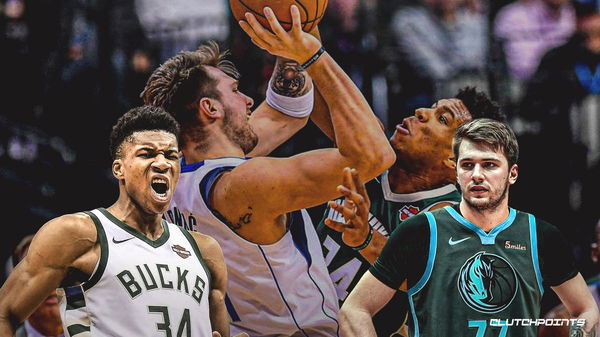 ---
---
The NBA on Wednesday indefinitely suspended the league for at least 30days due to coronavirus pandemic. While NBA players are now safe & in complete isolation, but they are still having some hard time coping with this situation in hand. Because in the end who doesn't hate when you can't do your favorite thing of the day. It is understandable that how much these players must be itching to go on court and do what they do best i.e play Basketball. With so much downtime in hand players like Giannis Antetokounmpo, Trae Young, Luka Doncic, Ja Morant and many others feel either bore or they are looking to turn full-time gamer.
ADVERTISEMENT
Article continues below this ad
Giannis Antetokounmpo will play NBA for '25 years'
We all can definitely feel what Giannis must be going through. If not, then just imagine for a moment that you are sailing towards your second consecutive MVP and most probably first Defensive Player of The Year too amidst this your team is also on the verge to become the only 3rd team in NBA history to win 70 games in a season. And while you are imagining all this, just go on little forward and think about a certain pandemic(read: coronavirus) which recently broke out and destroyed all your hopes, dreams and imagination in the process.
ADVERTISEMENT
Article continues below this ad
Well, in short, this is the story of Milwaukee Bucks's Greek Freak this season, who is now so horrified by the idea of retiring that he has now decided to play for 25 years!! So cheers to all Bucks and Giannis fans out there.
Luka Doncic, Trae Young & Ja Morant: The new Gamers in town
Move aside Ninja's and Shroud's of this world, we have new gamers in town. Because the NBA community has gone full e-game mode now, all thanks to the isolation done by COVID-19.
Here is Luka Doncic describing all things live from his den:
Looks like, Bradley Beal is also on the same path as Luka Doncic:
We can't really blame Ja for this. Go on, Morant, live your life to the fullest:
about to turn into a gamer 😂🤦🏽‍♂️

— Ja Morant (@JaMorant) March 14, 2020
Finally, Trae also got time to play Video Games and chill:
The virus really got me learning how to play all these video games….🙄🤣

— Trae Young (@TheTraeYoung) March 14, 2020
And if you are not a very big fan of Games and Gamers, then you might resonate with Miles Bridges:
ADVERTISEMENT
Article continues below this ad
Nonetheless, all we can do for now is pray all things to go back normal after 30 days. And take care of those around us. Because as a wise man once said "Quarantine and Chill" till then.
ADVERTISEMENT
Article continues below this ad