Warriors' Kelly Oubre Details About the Call He Received after Klay Thompson's Injury
Published 12/07/2020, 10:39 PM EST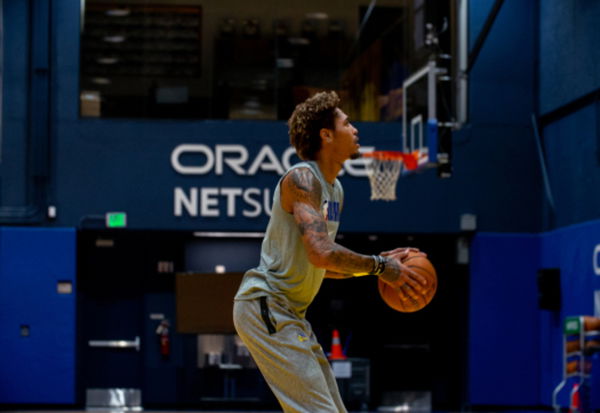 ---
---
The Golden State Warriors were balancing on a tightrope when Klay Thompson got himself injured once again. The team, along with the entire league, was devastated. The wait was finally over and fans were readying themselves to enjoy seeing the elite shooter at work, when another tragedy struck. 
ADVERTISEMENT
Article continues below this ad
To fix this loose thread, the GSW front office found a worthy solution in OKC's Kelly Oubre Jr. They gave away their 2021 first-round pick to acquire Kelly, who will make $14.4 million in the upcoming season. This trade more than doubled the Warriors' tax bill from $66m to $134m. Still, it is all worth it if he plays as per the hype.
ADVERTISEMENT
Article continues below this ad
Kelly Oubre reacts to Klay's injury
Kelly had played 56 games for the Phoenix Suns in the past season. He was then traded to the Oklahoma City Thunder on November 16. However, Klay's injury and OKC's different intentions paved his way into the Warriors' squad. 
Remembering the moment, he told in an interview, "Nobody had reached out to me from OKC just yet, so I just kind of figured something was on the way. The next day Sam Presti actually called me and said that Imma be moving from OKC. He just wanted what was best for me and my career. So I respect him for calling me and telling me that he was looking to move me just because they had other plans for the team.
He further added, "Then obviously I get the news from [indiscernible] camp, he said that Klay went down, so I kind of got a gist that someone of the Warriors organization is gonna call pretty soon after that. But I wouldn't try to put too much faith or too much trust I can't control anything… "I can't wait [for] him to get back, straight up!" 
ADVERTISEMENT
Article continues below this ad
Can the Warriors count on him as they counted on Klay?
Originally drafted by the Atlanta Hawks, Kelly had his most productive season last year where he averaged 18.7 points at 45.2% from the field and 35.2% from behind the arc. These are his career-best figures, and he has shown improvement in his defensive abilities over time. One can not simply expect the 6'7" small forward to score 37 points quarter as Klay would pull. 
But the fact that the Suns relied on Kelly to start 555/56 games speaks volumes about his efficiency in the starting line-up. This would give the Warriors a healthy combination with Stephen Curry, Draymond Green, Andrew Wiggins, James Wiseman, and Kelly himself. Assuming that Klay would come back by the time postseason begins, all that the 25-YO has to do is to drag the Warriors into the playoffs.
ADVERTISEMENT
Article continues below this ad
Read also – Kelly Oubre Jr. Opens Up on His Initial Experience with the Golden State Warriors