Golden State Warriors Talk About Their Priorities for the NBA Draft Pick
Published 03/21/2020, 3:48 AM EDT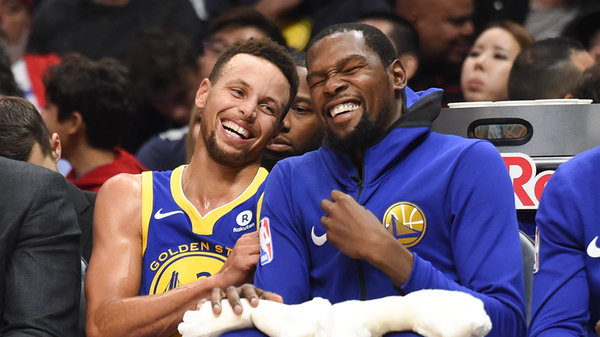 ---
---
Golden State Warriors coach Steve Kerr in the recent "The TK Show" podcast with The Athletic's Tim Kawakami said Warriors are excited about the high pick in the draft.
ADVERTISEMENT
Article continues below this ad
Warriors who are having their worst season possible are in a position to grab a Top-5 pick. The only team who were close to Warriors before the league suspension was Cleveland Cavaliers with a 19-46 record. San Fransico based team was the first team in NBA this season who went out of playoffs-contention with 15-50 record.
This season was definitely drastic for Dubnation and Warrior team alike. But it was certainly not the reflection for the future. GSW has appeared in last 5 NBA Finals and won 3 of them, which speak volumes about the team consistency and mentality. This shameful season was thanks to two things mainly, well actually three if you count Kevin Durant in. But 'Splash Brothers' injury was the key which broke the backbone of Warriors this season. Not to forget Durant who shifted to Nets' still hasn't played any NBA match since that unfortunate injury in Finals against Raptors.
ADVERTISEMENT
Article continues below this ad
Golden State Warriors preparing for NBA draft
On "The TK Show" Steve told Kawakami "We're excited about having a high pick and there definitely are some guys who are very talented". "This, obviously, is [general manager Bob Myers'] world. We're gonna pick who Bob and the scouts feel like we should pick".
"But what we have to weigh is — are we looking for a player who is gonna help immediately because we feel like we've got this window the next few years? Are we gonna use the pick in a trade to try to trade for a vet who is ready to help us win right away"?
"Or do you look at it long term — because you know you want to be good for the next decade — and you take a young player with a lot of potentials who's maybe not ready to help us win yet but you feel like could be a great player down the road?"
"Those are all options and that's what we have to figure out as an organization."
Notably, Warriors are linked to the University of Dayton's Obi Toppin who has just completed his sophomore season. Potential National player of the Candidate averaged 20.0 points, 7.5 rebounds, 2.2 assists, 1.2 blocks and 1.0 steals this year. He successfully shot over 63 percent from the field, 39 percent from deep and 70 percent from the free-throw line. Now just imagine this man with marksmen like Stephen Curry and Klay Thompson, which would mean the complete destruction of rivals on the court.
This is what the NBA could expect from Obi in the following season:
ADVERTISEMENT
Article continues below this ad
Now, all that the Dubnation has to do is pray for the season to resume again and get to the NBA draft as quickly as possible. Until then just practice self-isolation and social-distancing.
ADVERTISEMENT
Article continues below this ad