"Have to See if I Can Make a Layup": Russell Westbrook Unlikely to Feature in Rockets Scrimmages
Published 07/23/2020, 7:30 AM EDT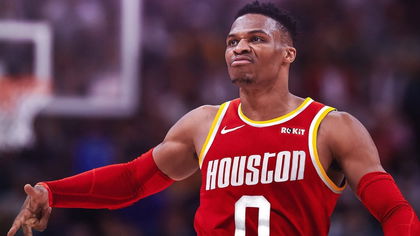 ---
---
The Houston Rockets arrived in Orlando without their two superstars, James Harden and Russell Westbrook. Harden then came a few days later but Westbrook was still missing. Later it was announced that Westbrook had contracted the coronavirus. After recovering, he arrived in Orlando just two days back and now has got the all-clear to practice.
ADVERTISEMENT
Article continues below this ad
ADVERTISEMENT
Article continues below this ad
While speaking to reporters in his first press conference since arriving, he was asked whether he would play in the upcoming scrimmage games. "I have to see if I can make a layup at this point," Westbrook joked. "I got to start there and work my way from there."
Coach Mike D'Antoni has given him the choice of whether to play in the scrimmages or not. But with his lack of practice time, he might not feature.
Russell Westbrook grateful about being able to recover soon
"I'm just thankful and blessed to be able to go out and compete again," Westbrook said. "But, just quarantining at home, trying to be productive, obviously not able to get on the basketball floor, but finding ways to kind of stay active and do as much conditioning I can probably do as far as that. Before I had to quarantine, I was in pretty good shape so I should be all right."
The four-month basketball break is hard for fans but even worse for players. Westbrook admitted he was eagerly waiting to return to action.
ADVERTISEMENT
Article continues below this ad
"I'd be lying if I said I wasn't (eager,)" Westbrook said. "Being home, being by myself for such a long period of time, away from my family and my teammates and the organization, I'm definitely excited to get back on the floor and get things rolling."
At the end of the press conference, he was asked how long it would take him to get back to full fitness. With a hint of a smile, he gave a warning to the rest of the NBA, "When I'm back to 100 percent, you'll know."
After having an underwhelming season last year, Westbrook has been on a redemption journey with the Rockets this season. He has improved from last season and is a strong partner for Harden. If they play at their best, the Western Conference teams will be in trouble.
ADVERTISEMENT
Article continues below this ad