The New York Knicks are currently excluded from traveling to Orlando and competing in the rest of the regular-season games. Their record doesn't vouch for much and the team has to wait for a few more months to get back in action. The Knicks, once a feared team in the 90s NBA era, don't enjoy the same status now. 
The team is currently enduring a troubled state with its young squad who look to succeed in the coming future. The Knicks particularly have not been in good terms with their head coaches as well. From 2010 to the present day, the team has changed seven coaches, a list which contains the names of former players like Isiah Thomas and Derek Fisher. 
Derek Fisher became one of the most talked-about signings when he joined as the Knicks' head coach in 2014. Moreover, Fisher joined the team straight out of retirement which made people believe in his skills even more. But to everyone's surprise, Fisher had a pretty bad first year with the team. He led the Knicks to their worst record in franchise history, carrying a win/loss number of 17-65.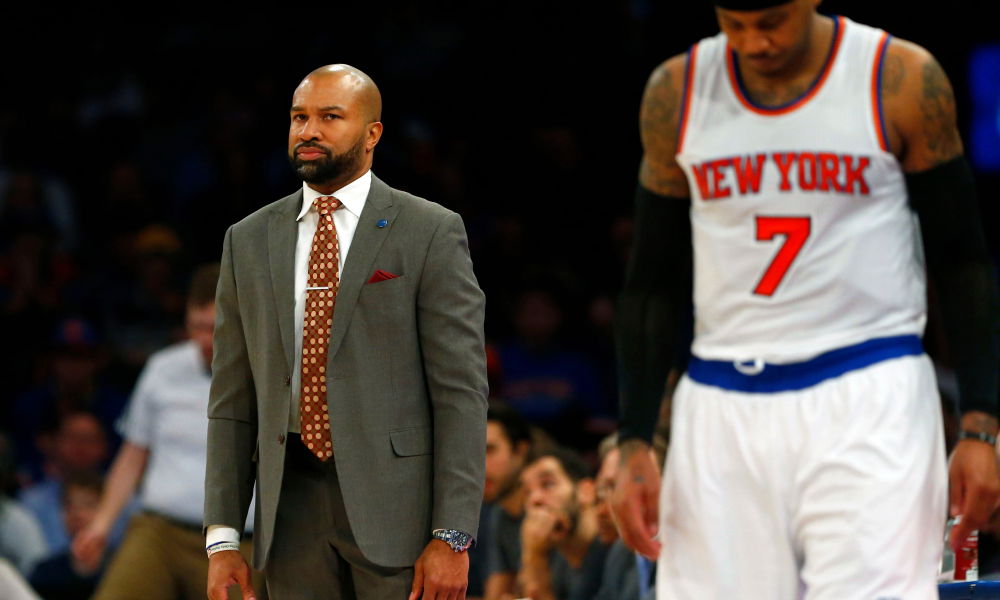 Former New York Knicks player wants a shot at the coaching job
Since the Knicks are having trouble coming up with a permanent solution for their coaching job, people want to step up and help them out. Nobody has managed to last more than three years since Mike D'Antoni coached the team from 2008-12.
Baron Davis who played with the New York side for the 2012 NBA season, recently mentioned on Twitter that the Knicks coaching job very much suits his interest. Davis, who played for 13 seasons in the NBA, had also passed some comments against five-time champion Derek Fisher. 
Responding to a post made by a twitter user, Davis called out Fisher for his incapacity to succeed with the Knicks. "I will take the job. They gave it to Derek Fisher and he a con artist," Davis wrote on his page. While 41-year-old Davis does not have any success to display from his playing career, he is certain that he can restore the good old days at the Madison Square Garden. 
I will take the job. They gave it to Derek Fisher and he a con artist

— Baron Davis (@BaronDavis) May 31, 2020
The Knicks have currently appointed assistant Mike Miller as their interim head coach. However, the real hunt for a permanent leader would be on at the front office. It is also highly unlikely that the Knicks would consider Baron Davis as a potential candidate. Reports are suggesting that Tom Thibodeau might come to New York in a spectacular signing.