"He Goes Out Of His Way To Do The Opposite": Former NBA Veteran Slams New York Knicks Owner for His Incompetence
Published 06/09/2020, 1:55 AM EDT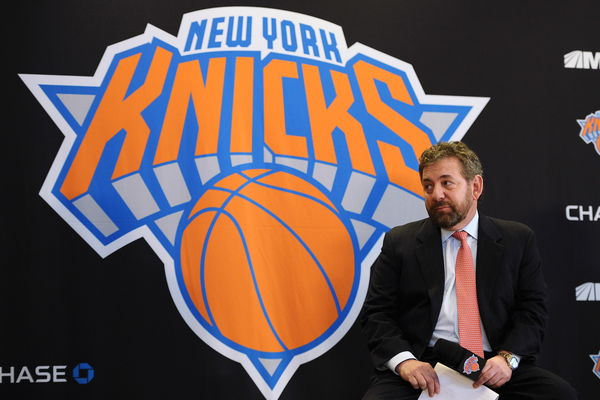 ---
---
The citizens of the United States of America have been marching the streets, demanding an end to police brutality. Athletes have been trying to use their influence to ensure that protests are peaceful, and the NBA community has been playing a major role. Almost every team released an official statement condemning racism and showing their solidarity to the BLM movement. However, the New York Knicks didn't want to get involved in the thick of things. 
ADVERTISEMENT
Article continues below this ad
Fans and media personalities are accusing the Knicks for not joining the cause. In addition to it, Knicks owner James Dolan delivered something which failed to impress anyone. The 65-year-old released a statement that revealed the Knicks' take on the issue. 
Despite expressing sorrow over what happened to George Floyd, Dolan expressed that it was an extremely sensitive issue, and the organization wasn't willing to take a stand on it. "As companies in the business of sports and entertainment, however, we are not any more qualified than anyone else to offer our opinion on social matters," Dolan wrote. "What's important is how we operate. Our companies are committed to upholding our values, which include creating a respectful workplace for all, and that will never change. What we say to each other matters. How we treat each other matters. And that's what will get us through this difficult time."
ADVERTISEMENT
Article continues below this ad
Ever since Dolan sent this e-mail out, people have slammed the  Knicks owner for his incapacity to take a stand. As a result, Kendrick Perkins even called them the weakest link in the NBA. Recently, another former NBA champion had some strong comments on Dolan's statement. 
Former NBA veteran strongly questions New York Knicks owner 
Caron Butler, a 14-year NBA veteran, has played for nine different teams in his career. He recently had something to say on James Dolan's official statement pertaining to George Floyd's alleged homicide. The 2011 NBA champion spoke to Alex Kennedy of HoopsHype, where he slammed the New York Knicks owner for his leadership.
ADVERTISEMENT
Article continues below this ad
"It's like every opportunity or chance that Mr. Dolan gets to do something right, it's almost like he goes out of his way to do the opposite,'' Butler expressed. "That probably works in a business space when you disturb the market. But this is not a business space. This is a humane thing. He made a bad decision not keeping up on it. I don't know what he did privately, but you should take a stance on what's right or wrong."
Butler asserted the prominence of doing good to the society, no matter how large your contribution is. He vented his disappointment over Dolan's lack of support to the Black Lives Matter movement. "At the end of the day, your legacy is extremely important," Butler said. "People remember you from your good deeds and what you did for mankind. To say nothing in one of the biggest moments I think in our lifetime that we've been able to experience and rally around and have a hand in and be part of, to be absent in that moment, that tells you a lot."
Watch This Story
ADVERTISEMENT
Article continues below this ad
Moreover, considering the fact that the Knicks contain a diverse roster comprising players from different ethnic backgrounds, Butler brought out the feelings of the players when they came to know about their owner's actions. "I know a lot of players are like, 'How can I run through a brick wall for this organization and understand and know my rights probably don't matter to this individual,' " Butler continued. "It's an eye opener to a lot of people."