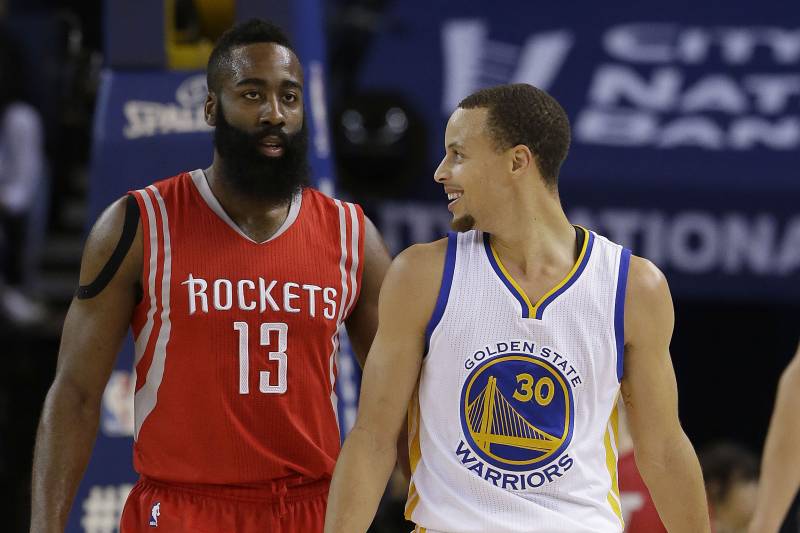 Former Boston Celtics player Kendrick Perkins picked James Harden over Stephen Curry as a better all-around player. Both Curry and Harden are undoubtedly among the best players in the league and one of the best guards of all-time.
Harden started his NBA career in 2009 with Oklahoma City Thunder. He might have been overshadowed in his initial years in the league by the likes of Kevin Durant and Russell Westbrook, but he soon made a name for himself. In 2012, when the Thunder reached the Finals of the NBA, Harden won the Sixth Man of the Year award.
Like Harden, Curry also came into the NBA in 2009. He rose to prominence with his three-point shooting around which the Golden State Warriors would build a dynasty. Talking about the two all-star guards, Perkins felt Harden brought more to a team than Curry.
"When I'm looking at all-around and the all-around player, the skill set and who brings more to the table, it's James Harden," Perkins said. "It's proven. When James Harden left Oklahoma City, by the way, he won Sixth Man of the Year playing with Russell Westbrook and Kevin Durant," he said on ESPN's First Take.
Perkins shows James Harden & his impact at Houston Rockets as an example to put him ahead of Stephen Curry
Harden, after three years in Oklahoma, moved to Houston Rockets. Since his arrival, the Rockets have made it to the playoffs every season so far. This was the period where Harden also grew as a player.
In 2017, he finished as the NBA assists leader for the season. He was the scoring champion in the two subsequent seasons and won the league MVP in 2018.
Kendrick Perkins says James Harden is a better player than Stephen Curry

"As soon as he stepped foot into the Rockets' franchise, he made that franchise relevant again."

(🎥 ESPN First Take) pic.twitter.com/iTY6EpszLy

— NBA Central (@TheNBACentral) May 25, 2020
Perkins referred to his impact at the Rockets to put him ahead of Curry.
"As soon as he stepped foot into the [Houston] Rockets franchise, he made that franchise relevant again, Max. And I'm not discrediting Steph. Steph is a first-ballot Hall of Famer. He's a better all-around player than Steph Curry," he said.
Harden might have led the Rockets to seven consecutive playoffs but they were ousted by Curry's Warriors on four of those occasions. The Rockets have lost two Conference Finals and a semi-final to the Warriors in the last five years.
And Curry had an influential role to play in those Warriors teams.