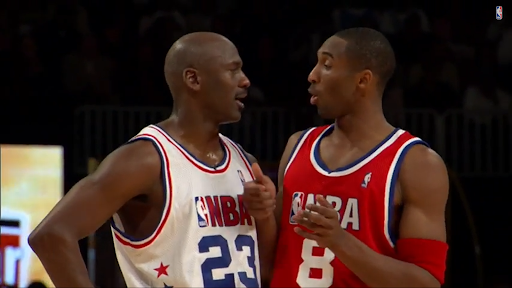 When Matt Barnes was watching The Last Dance, he couldn't help but think how similar Kobe Bryant was to Michael Jordan.
Barnes played alongside Bryant for the Los Angeles Lakers for two years. He joined the Lakers in a season when they were looking for a three-peat. However, for the majority of his time with the purple and gold, Barnes was out with injury.
In a recent appearance on Breal TV, Barnes talked about how watching Michael Jordan in The Last Dance felt so much similar to watching Bryant. He felt Kobe was equally competitive, even during practice. Barnes felt it was that attitude in practice that made all the teammates get to used to pressure situations during a game.
"To see the way Mike went at other players is the same way Kobe did. Kobe will get to your a** and challenge you. If you can get over that sh** from Kobe, the game is going to be nothing. He wants to have that mental mindset and know that he can count on you in game 7. He wants dogs around him," he said.
The conversation took a drastic turn when the host asked him whether Bryant ever got high. Barnes recalled how Kobe once told him that they could smoke together once they win a championship. Though he did not win a title with the Lakers, he later became an NBA Champion, playing for Golden State Warriors. He revealed that he had a similar pact with Stephen Curry and joked that Curry owes him a smoke.
.@Matt_Barnes22 says Kobe Bryant told him that if they won a chip he would smoke with him.

Barnes also said Stephen Curry still owes him a smoke following their championship victory.

"I was like bro if we win would you smoke?…"

(via breal/IG) pic.twitter.com/efrwEjS6wb

— TheWarriorsTalk (@TheWarriorsTalk) June 29, 2020
Kobe Bryant passing away was a bad dream for Barnes
Barnes played for 13 years in the NBA for various teams. He came into the league in 2004 and played for Los Angeles Clippers. He later played for Sacramento Kings, New York Knicks, Philadelphia 76ers among other teams.
Barnes had shared his sympathy when Kobe Bryant died earlier this year.
"It's a bad dream. Kobe's gone. It's not supposed to happen to someone like Kobe…he's bigger than that. It's not supposed to happen to Kob. We won't get to hear him again, he won't get to continue to spread the love and knowledge that he had," Matt Barnes said in a clip from ET  Online in February.