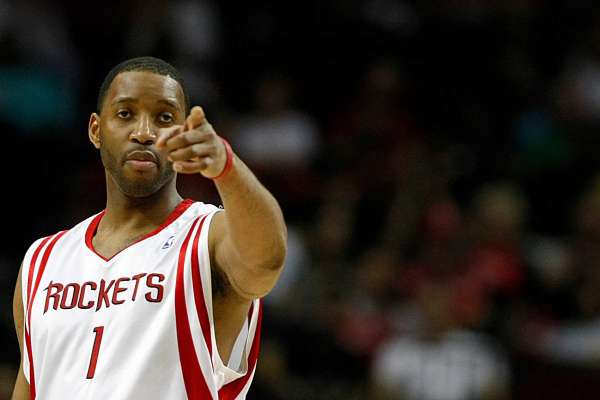 If you are a player coming into the NBA in the late 1990s or after, there is a high probability that Michael Jordan was your role model. Such was the influence Jordan had on the NBA in his time. But for Tracy McGrady, it was Penny Hardaway who inspired him.
McGrady came into the NBA through the 1997 Draft when the Toronto Raptors picked him. By then, Hardaway was in his fifth season in the NBA. He had started at the time when Jordan retired from basketball for the first time in 1993.
He was the third overall pick in the draft and had similarities to Jordan early in his career. Along with Shaquille O'Neal, Hardaway led the Magic to the 1995 Finals. He got into the All-NBA First teams in 1995 and 1996 before injuries slowed down his career.
Hardaway was McGradys's Michael Jordan
Talking on All the smoke podcast, McGrady said Hardaway was the reason he wore No. 1 jersey in his career.
"Penny was my dude. That's why I wore no. 1 with the armband. He was my Michael Jordan growing up," he said.
During the podcast, McGrady also talked about how Doug Christie, who was his teammate in Toronto, helped him grow as a player. "A man who helped me out the most is Doug Christie. I love Doug. I played Doug one-on-one every day," McGrady said.
Hardaway was McGrady's No. 1 🤜🏽🤛🏽#AllTheSmoke: https://t.co/FrxLvWJKQW pic.twitter.com/jBIGfre9vQ

— SHOWTIME SPORTS (@SHOsports) May 23, 2020
"We were just going at each other, man. And that's how I was working on my one-on-one game and building my confidence up because he was a great defender. He was a hell of a center. And to go up against him every day, I'll be ready for whatever."
McGrady, now a Hall of Famer, played his initial three years for Toronto Raptors. He then joined Orlando Magic. His four seasons at the Magic were the most prolific for him as a player.
He earned two All-NBA team selections during his time there and was a contender for the MVP award. He then moved to Houston Rockets where he helped the team become playoff contenders.
A two-time scoring champion, Tracy McGrady retired as a seven-time All-Star.