Heat's Duncan Robinson Extends Record Breaking Season: Surpasses Klay Thompson's Impressive Numbers
Published 09/17/2020, 9:10 PM EDT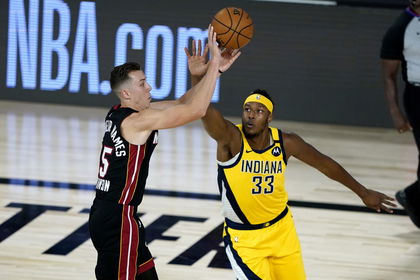 ---
---
The catch and shoot ability of Klay Thompson is a joy to watch. We've been witnessing Klay's brilliant shooting for years, and Miami Heat guard Duncan Robinson has emerged as his shooting twin. The 26-year-old has been on point from behind the arc for the Heat and has broken several records with his impeccable talent. 
ADVERTISEMENT
Article continues below this ad
Robinson has been an integral part of Miami's roster for a couple of years and is breathing fire in the 2020 NBA Playoffs. He is undeniably the best three-point shooter in the Heat, and the stats would tell an even better story. 
ADVERTISEMENT
Article continues below this ad
Moreover, Robinson came alive in Game 2 against the Celtics, racking up four three-pointers in the first quarter alone. This is after he had a terrible Game 1, with just two field goals made in four quarters.
Duncan Robinson went on a hot streak in the first quarter of Game 2 to pick up on his shortcomings from the previous game. The 26-year-old converted a flawless catch and shoot 3, which denoted that he's one of the best three-point shooters in the game. 
Heat sophomore Duncan Robinson excels Klay Thompson in three-point efficiency 
The 2019/20 NBA season dearly missed Klay Thompson, who had to sit out due to injury rehab. But Duncan Robinson put on quite a show with his long-range shooting to quickly rise as one of the best in the business. 
Robinson has seen a drastic improvement in his 3-pt game in the two seasons that he's been in the league. In his sophomore year, Robinson has attempted 687 field goals in the regular-season, out of which 606 were three-point efforts! Moreover, his 44.6% success rate from behind the arc is the fourth-best average in the current season. 
ADVERTISEMENT
Article continues below this ad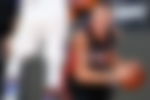 Moreover, Duncan Robinson has surpassed Warriors star Klay Thompson in a distinct category in 3-point shooting. He's been so good with his catch-and-shoot technique, and the numbers are reflecting the same. 
In fact, his 46.2 FG% average this year for catch-and-shoot 3s is the best record in NBA history. His efforts in this season have surpassed Klay Thompson's 44.4% record set in the 2017-18 season. 
ADVERTISEMENT
Article continues below this ad
Duncan Robinson has a career success rate of 43.7% in three-point shooting and is already right up there as one of the best to ever do it. His shooting form will prove to be vital for the Miami Heat in their ongoing ECF series against the Celtics. Can Robinson deliver when it matters?