"He'd Be Out There With Steph": Klay Thompson's Father Gives a Hugely Positive Update on the Golden State Warriors Star
Published 09/14/2020, 5:36 PM EDT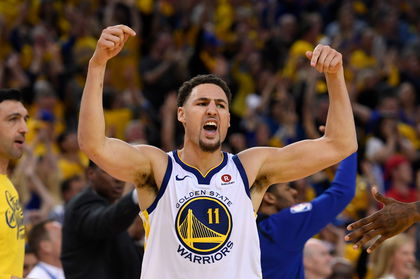 ---
---
The 2020 NBA season put a stop to the Golden State Warriors' reign of terror. They finished dead last in the league with just 15 wins, a dismal number caused mainly due to injuries to the Splash Brothers – Stephen Curry and Klay Thompson.
ADVERTISEMENT
Article continues below this ad
Curry injured his left hand early in the season, while Klay tore his left ACL in the 2019 NBA finals. Furthermore, Kevin Durant left the Warriors for Brooklyn Nets in the offseason, contributing to the Warriors' disastrous season.
However, things are looking good for the Warriors once again. Steph and Klay are healthy again, and the team has the #2 pick in the 2020 draft, which guarantees them an exciting rookie player.
ADVERTISEMENT
Article continues below this ad
Klay's father, Mychal Thompson, recently gave an update about his son's recovery.
"He's doing great, he's going at full speed and just back at being a basketball player, fully healthy. He's feeling good, and I have been watching workout and his shot's looking even better and this what we expected because that all you can do for so long, just go out there and shoot, shoot, shoot until you are fully healthy.
"But he's ready to go, if the season would have started at the normal time, he'd be out there with Steph and the boys again."
It's crazy to even imagine that Klay could improve his already near-perfect shot. But if Mychal's claims are true, then its good news for the Warriors. They can compete for the championship once again and reclaim the NBA title.
What to expect from the Golden State Warriors next season?
ADVERTISEMENT
Article continues below this ad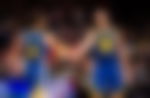 The Warriors have gone to five straight NBA finals and won three rings in the past five years. Moreover, they could have had their fourth ring if it weren't for these untimely injuries.
But now, the biggest goal for the franchise is to get back on track with their goals. Knowing Steph and Klay, they must be eager to get back in contention. Also, Andrew Wiggins could prove instrumental for the Warriors heading to the 2020-21 NBA season. If all goes well, the Warriors should compete with the top teams in the league for yet another NBA title.
ADVERTISEMENT
Article continues below this ad
Do you think the Warriors can win another ring next season? Or will the roster struggle after a bad season?