Houston Rockets 2021 Roster: What the Team Looks Like after All the Trades and Signings
Published 11/24/2020, 7:00 AM EST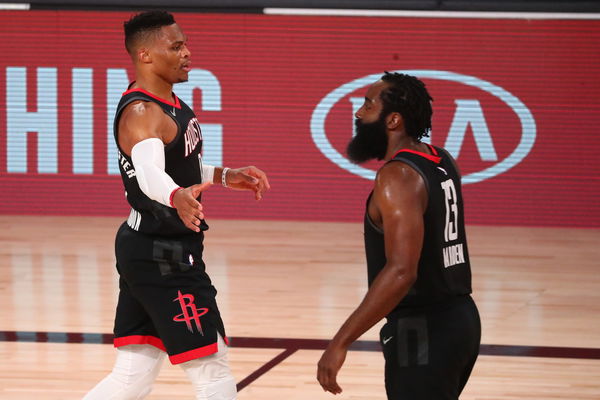 ---
---
The Houston Rockets were the most talked-about team ahead of the NBA off-season 2020. The reason was obvious; their key players were seemingly unhappy with the organization and had publicly shared the desire to move on.
ADVERTISEMENT
Article continues below this ad
Rewind to the 2019 off-season, where the Rockets appeared to be one of the toughest title contenders with two All-stars to lead them. But eventually, James Harden and Russell Westbrook failed to complement each other at the highest level, and they could not go deep into the playoffs. A series of mistrust and dissatisfaction then led to a team shuffle.
Houston Rockets transactions: Players signed via trades and free agency
ADVERTISEMENT
Article continues below this ad
The Rockets released Robert Covington to the Blazers in order to receive Trevor Ariza, a 2020 1st-round pick, and a 2021 protected first-round pick. Ariza has already served in the organization twice, once in 2009-10 and then later in 2014-18. This will mark his third arrival to the side, and he is owed $12.8 million in 2020-21.
The Rockets are finalizing a trade to send Robert Covington to Portland for Trevor Ariza and 2020 first-round pick and 2021 protected first-round pick, sources tell ESPN.

— Adrian Wojnarowski (@wojespn) November 17, 2020
Big man and free agent, Christian Wood has joined the Rockets on a $41 million 3-year deal. The deal will come to an official completion after a sign-and-trade between the Detroit Pistons and Wood's new destination. His average, from February 3 onwards, has been over 22 points and close to 10 rebounds. Hence, this 25-year-old undrafted rookie can be effective for the Houston Rockets.
Most importantly, DeMarcus Cousins has made his way to Houston. Ever since 2018, DeMarcus had been dealing with various injuries (Achilles and quadriceps) and was unable to perform. His August 2019 injury (ACL tear) sidelined him from the Lakers squad, who waived him to sign Markieff Morris. But now, the 30-year-old with a double-double career average in points and boards is hungry to make a return. 
Cousins will sign a one-year, non-guaranteed deal, sources said. Houston expressed interest in signing the four-time All-Star before the NBA restart in July. Cousins serves as an upside signing, and has shown focus and drive in rehab through multiple long-term injuries. https://t.co/LUCaKrWwcj

— Shams Charania (@ShamsCharania) November 23, 2020
Furthermore, Sterling Brown and Sydney Kings' forward Jae'Sean Tate (3-year contract) has reportedly joined the Rockets in their free agency. Also, as a 52nd overall draft, the franchise had picked Kenyon Martin Jr. 
The Rockets' massive offseason deal came when they traded Russell Westbrook for John Wall. The Wizards sent out Wall who is recovering from an injury plus a 2023 protected draft pick to seal the services of 32-year-old Westbrook. Most recently, the Rockets acquired Victor Oladipo, Dante Exum, and Rodions Kurucs in a 4-team trade.
Players under question
Eric Gordon – The Rockets are obviously facing salary cap limitations, and it is a valid thought that they might consider moving Gordon to build some space. They're hard-capped due to max salaries ($41 million each) to the dynamic duo. If they let go Eric, they'll have $16.8 million of extra breathing space. Although the question remains, who can they replace him with?
Players the Rockets lost
Apart from Robert Covington, there is a whole list of free agents that they've reportedly lost. The list goes to include William Howard, Thabo Sefolosha, Luc Mbah a Moute, Gerald Green, Michael Frazier, Tyson Chandler, DeMarre Carroll, Bruno Caboclo, Jeff Green (Nets), and Austin Rivers (NY Knicks). Plus don't forget Westbrook's exit after just one year with the franchise! 
After being linked to several trade rumors for the first few weeks of the season, James Harden's trade request has finally been fulfilled. He was the centerpiece for a blockbuster 4-team trade as he was sent to the Brooklyn Nets. With the Nets, Harden will be pairing up with Kevin Durant and Kyrie Irving to form the league's newest Big 3.
2021 Houston Rockets roster
Backcourt
Victor Oladipo (G)
John Wall (G)
Dante Exum (G)
Eric Gordon (G)
Mason Jones (G)
Chris Clemons (G)
Thabo Sefolosha (F/G)
David Nwaba (F/G)
Brodric Thomas (G)
Danuel House Jr. (F/G)
Sterling Brown (F/G)
William Howard (F/G)
Ben McLemore (G)
Michael Frazier (G)
Jerian Grant (G)
Gerald Green (F/G)
Frontcourt
P.J. Tucker (F)
Rodions Kurucs (F)
Bruno Cabloco (F)
DeMarcus Cousins (C)
DeMarre Carrol (F)
Tyson Chandler (C)
ADVERTISEMENT
Article continues below this ad
Kenyon Martin Jr. (F)
Jae'Sean Tate (F)
Christian Wood (F)
ADVERTISEMENT
Article continues below this ad
Kenny Wooten (F)