Houston Rockets' Forward Names the NBA Player Who He Believes is Kobe Bryant's #1 Fan
Published 10/27/2020, 2:31 PM EDT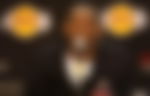 ---
---
Kobe Bryant was one of the most influential players to ever step foot on the basketball court. Even after his tragic passing back in January, NBA fans will never forget his legacy.
ADVERTISEMENT
Article continues below this ad
Athletes from all around the globe loved Kobe. One prime example of that is the players' collections of Kobe's sneakers. P. J. Tucker is unarguably known as the sneaker king all around the league.
However, according to Tucker, it's not him who has collected most Kobe sneakers. He revealed the name in a recent interview with the 'Better Generation'.
ADVERTISEMENT
Article continues below this ad
"Isiah Thomas takes it over. Every time he gets his (Sneakers), he'll hit me up. I'll be like why you put so little bro I need those. He got some crazy, especially the ones he got when he was with the Lakers. 
"DeMar DeRozan for sure the number one Kobe fan… He's like a Kobe F like DeMar is crazy like I am crazy Kobe (fan). DeMar is like another level, he's another level. When it comes to Kobe like straight Kobe is DeMar for sure for sure. DeMar's got more Kobe's than anybody in the world. Nobody's got more Kobe's than DeMar DeRozan.
"Get him over here and bring some Kobe's dog. I think he might have been the first person to really get the Kobe PE's and to be a part of the team when guys get is a lifetime dream."
That revelation about DeMar DeRozan from Tucker is just crazy. Fans knew that DeRozan was a sneaker fanatic like PJ, but owning so many Kobe sneakers is a dream for most fans and players from this generation.
The Los Angeles Lakers completed their promise to Kobe Bryant
ADVERTISEMENT
Article continues below this ad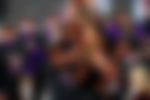 After Kobe's death, the whole world mourned, but the LakerNation were especially burdened. Not only did they have to deal with the loss of one of the most iconic players in franchise history, but they wanted to win it this year for Kobe.
LeBron James and Anthony Davis fulfilled this their promise to the franchise by winning the 202o NBA title. But many believe they need to complete a three-peat or at least a repeat to make a place among the Lakers' greats.
ADVERTISEMENT
Article continues below this ad
Next year, they have the chance to achieve that goal and are the heavy favorites to win it all. But can the terrific duo win yet another championship for the late legend Kobe Bryant?