"Scheming All Types of Defenses": Lakers' Veteran Applauds Russell Westbrook and James Harden
Published 09/14/2020, 1:51 PM EDT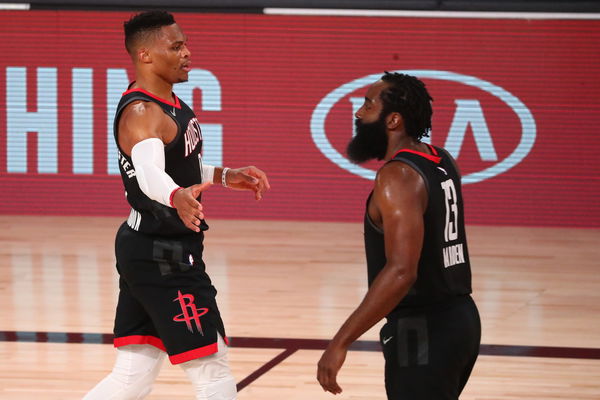 ---
---
The Houston Rockets have been at the receiving end of a lot of scrutiny over their performance against the Lakers. This is their third time losing in an Eastern Conference Semi-Finals and they just can't seem to get their act together.
ADVERTISEMENT
Article continues below this ad
They have lost by a humiliating 4-1 deficit, after giving everyone hopes that they will be making it very difficult for the Lakers to advance to the Conference Finals.
On one side everyone is talking about what their offseason will look like, considering Westbrook's trade rumors and Mike D'Antoni leaving as a coach. On the other hand, there is one unexpected individual that is still very appreciative of James Harden and Russell Westbrook's performance.
ADVERTISEMENT
Article continues below this ad
Despite the loss, James Harden and Russell Westbrook still the best duo
Saturday night was one hell of a night for the Lakers. Not only did they overcome a 22-point lead in the first quarter, but they also finished with a 119-96 win against the Houston Rockets.
LeBron James showcased a dominating performance. He ended with 29 points, 11 rebounds, and 7 assists. James Harden also bagged a whopping 30 points, 6 rebounds, and 5 assists. However, it was not enough to carry the Rockets to a win.
Nevertheless, the Lakers' power forward Jared Dudley displayed a lot of respect for his opponents. He took to Twitter and said, "I want to congratulate (James Harden) and (Russell Westbrook) on a helluva season for the (Houston Rockets)! These boys was the number 1 scoring duo in NBA history this season surpassing (Shaquille O'Neal) and (Kobe Bryant). These 2 had us up scheming all types of defences to try and slow them down!"
Despite their performance against the Lakers, the Rockets were great in the bubble. Westbrook and Harden are playing together for the Rockets for the first time. Yet, they have proved to be extremely useful for them.
The dynamic duo became the highest-scoring duo post the merger transcending the legendary Shaquille O'Neal and Kobe Bryant, which is what Dudley was referring to.
James Harden and Russell Westbrook have surpassed Shaq and Kobe as the highest scoring duo in a season since the ABA-NBA merger 🤯

With a combined 61.7 PPG, they could go scoreless in their final four games and still surpass Shaq and Kobe's 57.5 PPG in '02-'03. (h/t @RobKSports) pic.twitter.com/0hxXNFKhU2

— SportsCenter (@SportsCenter) August 8, 2020
ADVERTISEMENT
Article continues below this ad
Will it be wise for the Houston Rockets to let go of Westbrook?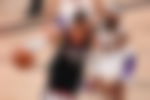 Considering the record that the two have set, should the Rockets give up on Westbrook so soon? He was struggling with a quad injury this season and delivered a few disappointing performances. If one still has doubt that the duo can't play together, they should think again.
ADVERTISEMENT
Article continues below this ad
With the Rockets' coach out of the pictures, the new management and new coach will be taking on this decision.