"I Ain't Playing" – Lebron James Totally Ridicules NBA's Latest Suggestion
Published 03/07/2020, 12:56 PM EST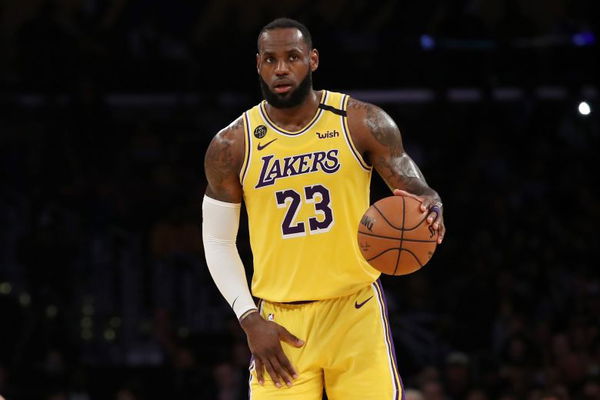 ---
---
Due to concerns about the novel coronavirus continuing to spread around the world, the NBA sent a memo on Friday to all 30 teams about the need to prepare for possibly playing games behind closed doors.LeBron James raised eyebrows on the subject.
ADVERTISEMENT
Article continues below this ad
The league circulated a memo to its teams Friday telling them to prepare in case it becomes necessary to play games without fans or media, as sports leagues in Europe have already done. The memo detailed potential actions that teams might need to take "if it were to become necessary to play a game with only essential staff present".
See More | Bradley Beal Pledges Loyalty to Washington Wizards
ADVERTISEMENT
Article continues below this ad
LeBron James' Reaction
LeBron James scoffed at the reporter while replying to NBA's stance of hosting closed-door games amidst coronavirus concerns. He said:
"We play games without fans? Nah, that's impossible," James said. "I ain't playing if I ain't got the fans in the crowd. That's who I play for. I play for my teammates, and I play for the fans. That's what it's all about. So if I show up to an arena and there ain't no fans in there, I ain't playing. They can do what they want to do."
LeBron James on possibility of NBA playing games behind closed doors because of coronavirus. LeBron: "I ain't playing" if there are no fans pic.twitter.com/kpHg6bsFYO

— Mark Medina (@MarkG_Medina) March 7, 2020
The memo, says teams should identify which team and arena people would be necessary to conduct games and be able to communicate quickly with non-essential staff, as well as ticket holders and corporate partners.
Should the NBA host any games behind closed doors or cancel them, they lose revenue from potentially refunded tickets and concession sales. If the NBA postpones games, it would also face a logistical hurdle to reschedule them. The NBA playoffs start on April 18. It already has experienced challenges with rescheduling the Lakers-Clippers game that was postponed on Jan. 26, two days after the death of Kobe Bryant.
ADVERTISEMENT
Article continues below this ad
The NBA rescheduled that Lakers-Clippers game for April 9, resulting in the Lakers playing three consecutive homes games. The NBA had to shuffle three other games on its master schedule involving the Lakers and Clippers.
ADVERTISEMENT
Article continues below this ad