"I Get a Call From My Grandmother": Vince Carter Recalls the Hilarious Story of How He Found Out Tracy McGrady Was His Cousin
Published 06/28/2020, 12:09 PM EDT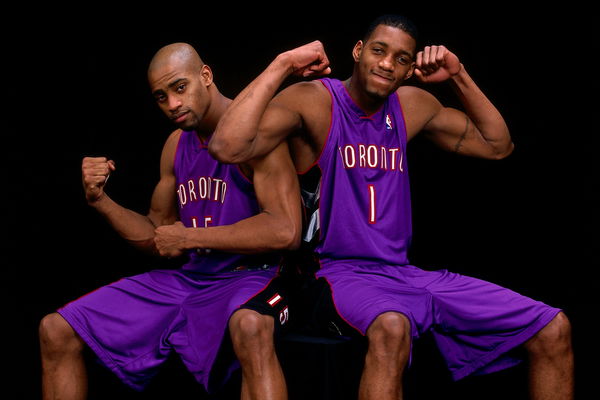 ---
---
As Vince Carter bids adieu to the game, he leaves us with many iconic memories on the court. From dunking on 7'2 Bob Weis during the 2000 Olympics to winning the Slam Dunk Contest, his performances have been memorable. Another iconic memory was him playing together with this cousin, Tracy McGrady at the Toronto Raptors when he had just entered the league.
ADVERTISEMENT
Article continues below this ad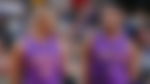 Last month Carter revealed the hilarious story behind how he found out they were cousins. Carter, on the 'All Smoke' podcast with Matt Barnes and Stephen Jackson, revealed that he found out McGrady was his cousin during his junior year at the University of North Carolina. McGrady had declared for the draft right after high school, unlike Carter who went to college first.
ADVERTISEMENT
Article continues below this ad
Vince Carter and Tracy McGrady: Inseparable duo
Carter said during the podcast, "He goes for the draft and he's coming in to work out and he's looking to play pick-up. And nobody would let him use his locker. We played AAU ball together so I knew him. We're playing pickup all week and I said hey bro you can use my locker since I knew him."
Then Carter said one day, TMac said he had to go for a family reunion and would skip practice. "I wasn't going (for the reunion) because I was in school playing pickup. He sits at the table with my grandmother and they get to talking. She's like oh you want to school in North Carolina, my grandson plays college ball there, Vince Carter. I get a call from my grandmother. 'What's up cuz! and I'm like who the hell is this. He says 'I'm TMac man what's up'. That's how we found out we're cousins"
ADVERTISEMENT
Article continues below this ad
Carter said that after McGrady found out they were cousins, he called often. "You need to keep dominating bro, so you can get drafted high. I'm going to make sure they're going to draft you." The Raptors had drafted McGrady with the ninth pick in 1997. Two years later, they got Carter. When Carter was traded to the Raptors during the draft, the first call he got was from McGrady. "I told you cuz, I told them to get you," said the excited McGrady.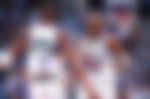 Going outside the US was a new experience for Carter. But having his cousin with him helped, he mentions. Former Raptors teammate Dee Brown once said, "They say they're cousins… But Siamese twins is more like it." Such was their inseparable bond. However, when McGrady left the Raptors in 1999, they had a feud, but it was settled later.
ADVERTISEMENT
Article continues below this ad