"I Knew it was Over": Former Teammate Reveals How Departure of Shaquille O'Neal Doomed Orlando Magic
Published 05/15/2020, 2:19 PM EDT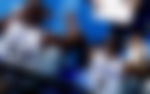 ---
---
You've heard about partnerships like Magic- Kareem in LA, LeBron-Wade in Miami, Shaq-Kobe in LA, etc. However, there was another on-the-rise partnership that Shaquille O'Neal was a part of and could've become one of the best if he hadn't gone to the Lakers.
ADVERTISEMENT
Article continues below this ad
Shaq's chemistry with Penny Hardaway in Orlando was much talked about. Recently, Penny revealed his thoughts about the time when Shaq left the Magic.
When Orlando's fate depended upon Shaquille O'Neal
ADVERTISEMENT
Article continues below this ad
Former Orlando Magic star Penny Hardaway always believed that Shaquille O'Neal and he were destined for greatness.
"Man, I know we would definitely be top five," Hardaway said on the show Tiki & Tierney in 2019.
"If we both stayed healthy, you have to win championships because (that is) the barometer for everybody. You have to win championships. I felt like we would have. I think he and I would have been able to be in the top-five duos."
Hardaway claimed that had Shaq stayed in Orlando, they really could have reached the top.
"We had a special situation in our first couple years making it to the NBA Finals,"  Hardaway said. "He left to go to the Lakers, but if we would have stayed together and stayed on that trajectory we were headed to, it would have been big-time."
The former point guard was recently on the 'All The Smoke' podcast with Stephen Jackson and Matt Barnes. He talked about his partnership with O'Neal and their time together with the Magic, including a few playoff runs.
Penny revealed that he was not ready for Shaq's departure from Orlando. Apparently, there were articles going around with speculations and rumors. However, Penny turned a deaf ear to it all. After all, how could the franchise let Shaq go?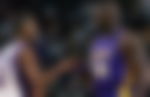 Unfortunately for him, when Shaq went into free agency after four years with the Magic, the Lakers obtained him.
"I thought 'Give this man whatever he wants', but I don't really think he wanted the contract, I think he wanted to leave, anyway. I think he really saw L.A. as an opportunity for movies, music, and to be with Kobe," Hardaway recalled.
"When Shaq left, I knew the magnitude of that instantly, I knew it was over. We were done"
ADVERTISEMENT
Article continues below this ad
ADVERTISEMENT
Article continues below this ad
Sadly for Penny, who really wanted to play with Shaq and win some championship rings, could never do so. Shaq, on the other hand, won three championships with the Lakers.