"I Literally Had to Call my Mom":Jordan's Son Reveals How Fierce Michael Jordan Was Even as a Father
Published 05/03/2020, 4:11 PM EDT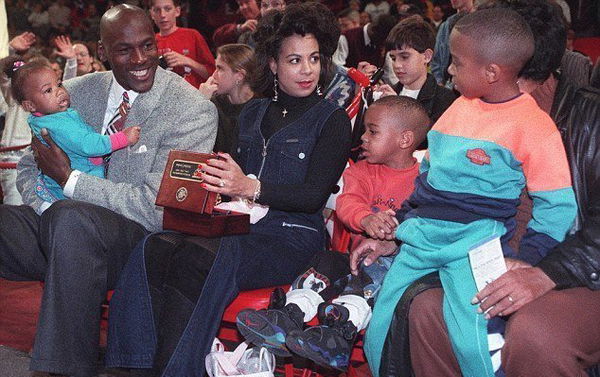 ---
---
Michael Jordan is known to be one of the most competitive players in the NBA. Watching him play would always give you the idea of how fierce he always was. So fierce that he didn't even take his own children lightly.
ADVERTISEMENT
Article continues below this ad
"He would treat us exactly the same as any other basketball player he was playing,"  Marcus, one of Jordan's sons, said on NBC's "Today" show.
Marcus was himself a college basketball player. Jordan would often play one-on-one games against his sons Marcus and Jeffrey.
ADVERTISEMENT
Article continues below this ad
"The game got so competitive [one time], to the point I literally had to call my mom, [and tell her], 'Dad's picking on me,' " Marcus said. "I was a freshman in high school. There was nothing given. You had to earn everything."
Jordan's children, Marcus, Jeffrey, and Jasmine made an appearance on the show to discuss the latest documentary on their father- The Last Dance. Jasmine also talked about how competitive her father was.
"I always knew he was competitive," she said. "He competes with us just playing sudoku or little puzzles at home. But actually seeing that dog in him and what he had to do to become who he is today has definitely been eye-opening and honestly inspiring and motivating so it's been incredible to watch."
Children have enjoyed The Last Dance- the documentary on Michael Jordan
The most recent episode of The Last Dance revolved around Jordan's teammate at Chicago Bulls, Denis Rodman. While Jefferey has heard many stories about his father and his legendary journey, the documentary has been providing them with new ones.
"There are so many stories about Dennis and that MJ story about the vacation," he said. "There's so many stories about the relationships of the players as well as how Phil brought them together. That's really been new for me to hear and cool to see."
ADVERTISEMENT
Article continues below this ad
After four episodes of The Last Dance, Jordan's children have enjoyed watching their father's journey. So much that Marcus couldn't wait for the new episodes to air and "nagged his dada" to watch them early. He admitted that he watched nine episodes from the ten-episode series.
"I'm loving how the reception of it is and everybody debating who's the greatest of all time," he said. "But I'm pretty sure this documentary kind of ends all that."
He also confirmed all three, Jeffrey, Marcus, and Jasmine, will make an appearance in episode 10.
ADVERTISEMENT
Article continues below this ad