"I Needed Portland for Other Reasons" Carmelo Anthony Admits to CJ McCollum
Published 03/15/2020, 10:18 AM EDT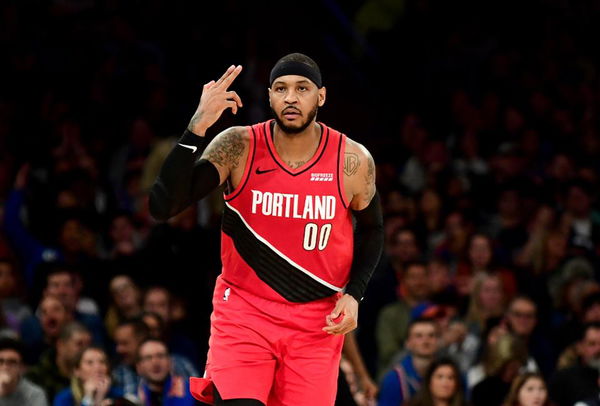 ---
---
We all know how every NBA team has practically ignored Carmelo Anthony in the past. The only team who showed trust in Anthony during that hard time was the Portland Trail Blazers. And to everyone's surprise, Anthony delivered on that trust. 10-time All-star was on the verge of crashing out of the league but he survived that phase of his life brilliantly. This situation was created mostly because of Anthony's antics to hold the ball for so long and then trying to shoot.
ADVERTISEMENT
Article continues below this ad
Anthony is one of those stars who literally never came out of their past self. In Carmelo's case, it was his Huston Rockets phase, where things literally went downhill for the 6'8 forward. Before that infamous Rockets' stint, Carmelo was probably enjoying prime of his career with Denver Nuggets. But alas, good things don't last forever.
By going through all this, Anthony was certainly not confident and neither was any team in him. But then came Portland Trail Blazers who literally saved Carmelo's career by giving him a once in a lifetime opportunity. Portland decided to take Carmelo in the roster and Anthony surprisingly delivered.
ADVERTISEMENT
Article continues below this ad
Rejuvenation of Carmelo Anthony
Recently, Carmelo Anthony joined CJ McCollum on the most recent edition of his "Pullup" podcast where Anthony revealed how joining Portland was just more than 'Playing Basketball'. He further explains how he needed Portland for other reasons too.
Carmelo on signing with Portland…
"I really needed Portland. As much as they needed me from a basketball standpoint, I needed Portland for other reasons. I always say 'God don't make no mistakes' and this came at a pivotal time for me and I'm taking advantage of it," Anthony said.
At first, it looks like Anthony is using Portland for his 'personal gains' but he further explains:
ADVERTISEMENT
Article continues below this ad
"I'm not talking from a basketball standpoint, it's just the happiness and just being here and just being around the guys and being able to love the game again and travel and talk and give my experience and give my knowledge to people. That's what's most important to me at this point."
And looks like Anthony till now has been successful in redeeming himself. Carmelo has astonishingly played an average of 32.5 minutes in 50 games for Trail Blazers this season. He has averaged 15.3 points, 6.3 rebounds and 1.6 assists per Basketball-Reference.com.
In the end its always good to see a man doing his favorite thing with a passion. In this case, i.e 'Playing Basketball'.
ADVERTISEMENT
Article continues below this ad