"I See & Feel Everyone's Pain": Michael Jordan Breaks His Silence on George Floyd's Death
Published 06/01/2020, 2:07 AM EDT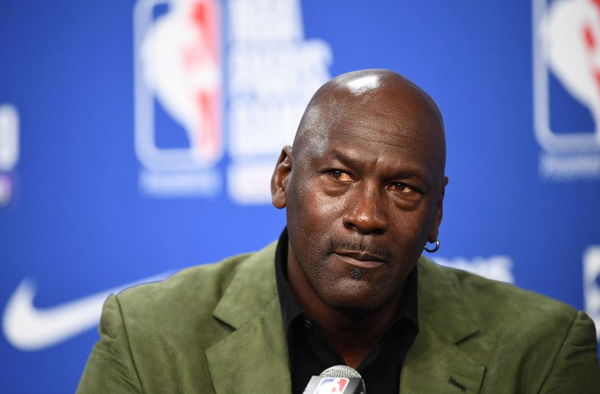 ---
---
Former Chicago Bulls superstar and NBA legend Michael Jordan spoke up on the death of George Floyd. He released a statement on Sunday expressing his grief and condemning the "ingrained racism."
ADVERTISEMENT
Article continues below this ad
"I am deeply saddened, truly pained and plain angry," the owner of Charlotte Hornets said in the statement. "I see and feel everyone's pain, outrage, and frustration, I stand with those who are calling out the ingrained racism and violence toward people of color in our country. We have had enough."
Floyd died due to a policeman kneeling on his neck for several minutes. Since a video of the incident had come out, there have been nation-wide protests against racial discrimination. Many NBA personalities including LeBron James have raised their voice over the incident. Former NBA player Stephen Jackson, a friend of Floyd, took part in a rally in support of his friend. The rally also saw Minnesota Timberwolves' Karl-Anthony Towns take part in it. More recently, Boston Celtics Jalen Brown led a protest with a 15-hour drive from Boston to Atlanta.
ADVERTISEMENT
Article continues below this ad
Michael Jordan calls for unified action
Jordan, a six-time NBA Champion, said people need to continue the peaceful protests.
"We need to continue peaceful expressions against injustice and demand accountability," the statement from Jordan read. "Our unified voice needs to put pressure on our leaders to change our laws, or else we need to use our vote to create systemic change. Every one of us needs to be part of the solution, and we must work together to ensure justice for all."
He finished his statement with a thought for the Floyd family.
ADVERTISEMENT
Article continues below this ad
"My heart goes out to the family of George Floyd and to the countless others whose lives have been brutally and senselessly taken through acts of racism and injustice," he wrote.
Watch This Story
ADVERTISEMENT
Article continues below this ad
Apart from Jordan, a few others in the NBA community have also released their statements regarding the unfortunate incident. While Los Angeles Lakers and Milwaukee Bucks released a statement condemning racism, Brooklyn Nets released a combined statement with Long Island Nets, New York Liberty, and Barclays Center. Meanwhile, Los Angeles Clippers coach Doc Rivers said the society must start fighting against the injustice.