"I Would Have Torn Your A** Up": Shaquille O'Neal Takes a Dig at Golden State Warriors' Star
Published 05/09/2020, 6:47 AM EDT

Follow Us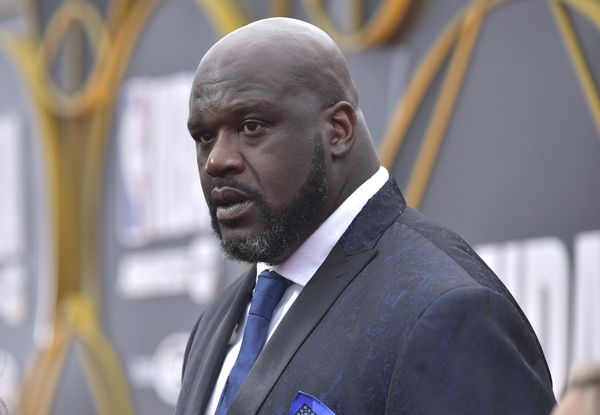 Shaquille O'Neal is keeping fans entertained during this stretchy quarantine period with podcasts and video calls. The NBA legend is very active on social media, voicing his highly anticipated opinion about things pertaining to him.
Golden State Warriors forward Draymond Green joined the 'All the Smoke' podcast late in April, where he registered some confident thoughts about his Warriors team. The 30-year-old ridiculed Shaq's Lakers by making harsh comments on them. He claimed his team could easily beat the three-peat Lakers and even said, "Me and Curry would've f****n' destroyed Shaq in a pick-and-roll." 
Upon hearing these comments, every basketball fan was waiting for Shaq to respond to these bold comments made by Green. To everyone's delight, the 'Big Diesel' did not disappoint and marked his views on Draymond's statements. 
ADVERTISEMENT
Article continues below this ad
Shaquille O'Neal comments on Draymond Green's Warriors team
One of the prominent things said by Green was that his current Warriors team would destroy the Lakers. The confidence was booming inside Draymond Green. However, on a recent episode of 'The Big Podcast with Shaq,' the four-time champion was exposed to Green's comments by Stephen Jackson who is the host of the 'All the Smoke' podcast. 
ADVERTISEMENT
Article continues below this ad
"Listen, I like Draymond. I like guys that voice their opinion and I like the way he plays," Shaq said. He reflected on how Green clearly differentiated the eras, and liked his respect towards his Lakers team. 
Speaking about the talented Warriors team, he said, "In our era, they would have been the sixth or seventh seed." He mentioned Utah Jazz, San Antonio Spurs, and a few other teams who would have probably outplayed the Warriors if they competed in the early 2000s. 
ADVERTISEMENT
Article continues below this ad
Reflecting on Green's comments on his mighty blocks, he said, "Draymond what you got 3 rings? I'll let that go. But again, it's his opinion. I try not to get personal with people's opinions. But however, Mr. Draymond, like you said, I would've torn your a** up on that block."
Though Shaquille O'Neal mentioned his respect for the Warriors, he believes that the 90s and the early 2000s teams are far more superior. Players were much physical and went against each other. Overall, it was respectful of Shaq to not roast Draymond too much, but he justified what went in his mind and that was that.