"I Would Trade Kyle Kuzma for A..": NBA Analyst Takes a Massive Dig at Lakers' Forward
Published 10/17/2020, 10:30 AM EDT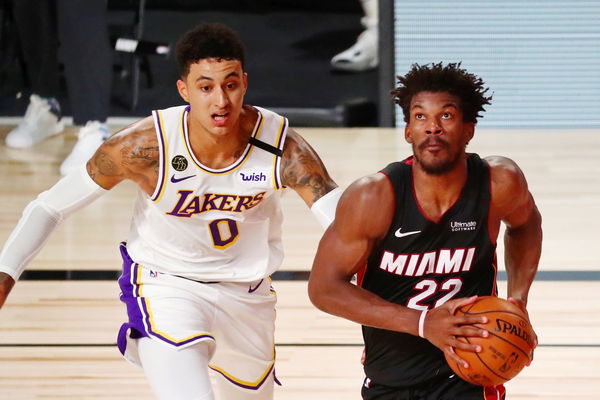 The Los Angeles Lakers recently won a record-tying 17th NBA championship by beating the Miami Heat in six games. LeBron James took home his fourth finals MVP award and Anthony Davis excelled in his first-ever finals series. But not every Laker lived up to their expectation, as some of them underperformed. 
It's no secret that LeBron and AD were the Lakers top two performers on the team. However, the third slot remained unfilled and fans wanted Kyle Kuzma to slip into that position. Ex-NBA players even believed Kuzma is tailor-made for the role, but unfortunately, he struggled to rack up the points. 
Kuzma averaged 22.0 minutes a game in the NBA finals, but his numbers are disappointing. The 25-year-old's 8.5 PPG, 2.8 RPG, and .5 APG shines a bitter light on his future as a Laker. 
ADVERTISEMENT
Article continues below this ad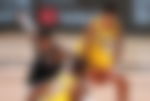 Owing to this, Shannon Sharpe made a rather bold admission about Kuzma in a recent episode of his show with Skip Bayless. Bayless, as we all know, likes to make controversial statements, but here's what Sharpe said about Kyle Kuzma: 
"I would trade Kyle Kuzma for a 12-pack of Clorox Wipes and a Tide stain remover pen," he said. "I'm not pleased with the way he played in the NBA Finals. So he could go and I wouldn't even bat an eye," Sharpe added when exploring trade options to bring Chris Paul to the Lakers. 
There's more anger towards Kuzma for his sub-par finals performance. Fans ever started a petition demanding that the Lakers shouldn't give him a championship ring. But what does Kuzma have to say about this?  
Lakers forward Kyle Kuzma reacts to winning the NBA championship 
Kyle Kuzma is still not over the surreal feeling that he is an NBA champion. For players like Kuzma, winning their maiden ring is a massive sense of accomplishment, a dream come true. He even posted a status about it, mentioning how he's been waiting for this moment since he was seven years old. 
Yo just accomplished a whole life long goal. Like when I was 7 I wished and wrote down to win a nba championship. Just chilling at the table and started to sweat 😅

— kuz (@kylekuzma) October 16, 2020
ADVERTISEMENT
Article continues below this ad
Moreover, Kuzma posted a timeline of his challenging journey to the NBA. The young forward did not have an easy route and reminded aspiring ballers to always believe in their dreams! 
Went from:
born in flint.
1 naia offer.
Boarding school at 16.
GED.
Gray shirt at Utah.
5 minutes a game as a freshman.
Told I would go Undrafted if I left school.
1st round pick.
NBA Champion.

Embrace your journey. Marathon life

Crazy 🤯🏆

— kuz (@kylekuzma) October 16, 2020
ADVERTISEMENT
Article continues below this ad
Kyle Kuzma is obviously not going to bat an eye about the hatred directed towards him. The 6'8" forward is a quality player who just needs to fill into the right shoes for him to sustain as a top talent.