"I'd Be Lying If I Said I'm Proud": NBA Veteran Earns The Support of Dwyane Wade with a Powerful Speech
Published 06/01/2020, 8:18 AM EDT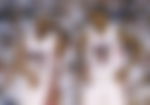 ---
---
People all over the world are making their statements known over the killing of George Floyd. The death of Floyd who died after a police officer knelt on his kneck has sparked widespread protests across the United States. Moreover, people are crowding the streets to let their feelings known, while people from the NBA community are trying to ease the situation into a more peaceful one. 
ADVERTISEMENT
Article continues below this ad
The residents of Minneapolis and other cities are demanding justice for Geroge Floyd's death in the most severe way. People are breaking into shops, public spots, and destroying everything that comes in their path. A shameful act and truly not the way to respond. People are trying to avenge violence by using a similar act, which is never the way to move forward.
NBA Veteran Udonis Haslem delivered a strong speech in Miami
ADVERTISEMENT
Article continues below this ad
As players and other staff from the NBA are actively voicing their concern over the day-to-day happenings, Udonis Haslem, addressed a rally in Miami. The Miami Heat captain spoke to his hometown gathering, attempting to enlighten the crowd about the disrespectful act of violent protests.
"There definitely has to be justice for George. There definitely has to be protests for what happened to George," Haslem said. "But I would be lying if I said that it has been going about the right way. I'd be lying if I said I'm proud of what's really been going on."
The Heat veteran then explained that he owes a lot to the Miami community, but on the other hand, the Police Department still has his gratitude for their protection all these years. "I stand here right now confused, torn, frustrated. I wasn't even supposed to be here." Haslem's intriguing speech connected well with the gathering. 
The 39-year-old deeply resented the fact that people have been taking violence as an act of gaining justice. "We have to be heard. We have to move forward strategically. It can't keep going this way, I know that."
ADVERTISEMENT
Article continues below this ad
Haslem has been with the Miami Heat since 2003 and has won the championship thrice. He has a lot of respect in the nearby community, as he's been there for so many years now. Haslem's long time friend and former teammate Dwyane Wade shared the speech on his Twitter account and captioned it, "Leader."
Leader! https://t.co/CNiVGvvb5B

— DWade (@DwyaneWade) June 1, 2020
ADVERTISEMENT
Article continues below this ad
It is heart-warming to see these athletes supporting one another in times like these where it is of utmost importance. Above all, together, we can break the chain of police brutality, racial discrimination, or any other injustice that steps our way.