We all have a superstar that we want to meet at least once in our lives. A person whom you respect and admire so much. Someone who you idolized growing up. The day you meet them will change your life forever. LeBron James had such a moment when he met his idol, Michael Jordan. 
While we are used to hearing the debate about MJ and LeBron, this incident goes further beyond, all the way to 2001. LeBron James was a 16-year-old high-school sophomore kid, while Michael Jordan had six NBA titles in his bag. 
When LeBron James met Michael Jordan for the first time
James and his good friend Maverick Carter met MJ at a gym in Chicago. Tim Grover, Jordan's personal trainer, had invited James and Carter to shoot a few hoops, but they never knew that the GOAT was going to show up. 
LeBron recently joined the UNINTERRUPTED podcast and expressed how he felt when he met MJ for the first time. "When I met Michael Jordan for the first time, I literally couldn't believe it was him. The dude looked like Jesus Christ to me."

Jordan walked into the gym to join the gathering of NBA players who were already present there. He attended his usual weights routine that he always completed before starting to play. Describing the scene at the gym, LeBron dived into a fanboy persona His sentences were dripping with adoration. 
"I didn't think he was real man. You don't understand. I didn't think Michael Jordan was real. I only thought he lived in the TV. When I saw him I was like, 'If the man above would have took me that day, I would have lived a hell of a life, I swear to god.'
A 16-year-old LeBron played on the court with MJ
As the league players took the court, as usual, MJ was dominating and LeBron James was watching his idol do what he does best. The likes of Paul Pierce, Penny Hardaway, Jerry Stackhouse, and other stars were part of a pickup game, according to James. 
But the highlight on the court was the trash-talk going on between MJ and Antoine Walker. "I swear to god, [Michael Jordan] and Antoine Walker were talking so much s**t back and forth, back and forth and they didn't let me play for the first hour."
While LeBron was so eager to play, the pros kept the 16-year-old out of the game, until one of them got tired. Eventually, he got asked to join the team, and it was a surreal experience for the upcoming talent. "For me to be on the court at 16-years-old, a sophomore in high school with my favorite player of all time, it was like, 'This can't be real man. If you pinch me, I hope I don't wake up.'"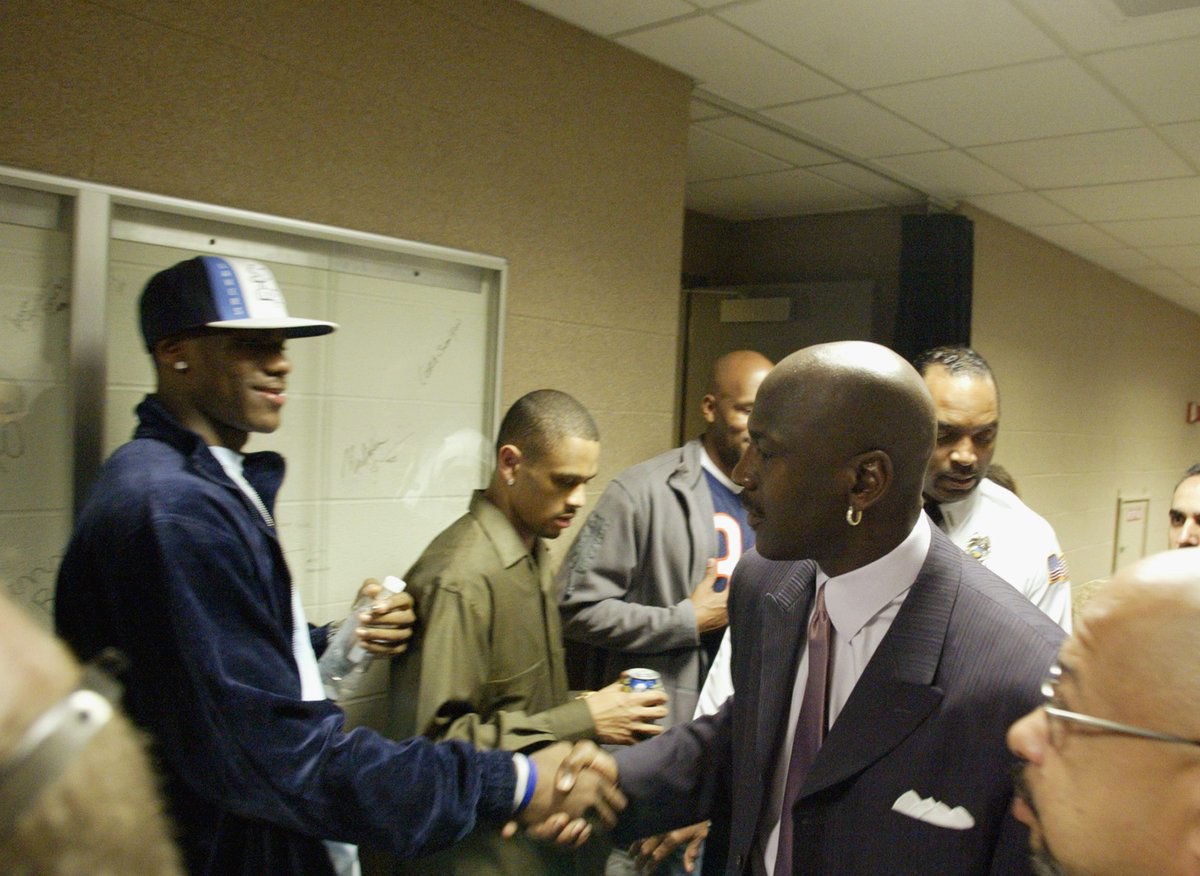 Maverick Carter, co-host and LeBron's long-time friend, was also present at the scene. He described the legendary list of players that were present alongside MJ. Carter remembered an incredible shot made by 'His Airness' and the trash talk that followed it. "Mike hit a game-winner and was like 'That's why they pay me $33 million to do it.'"