"I'm Not Built For This": LA Clippers' Montrezl Harrell Posts an Emotional Message After Leaving NBA's Orlando Bubble
Published 07/18/2020, 9:43 AM EDT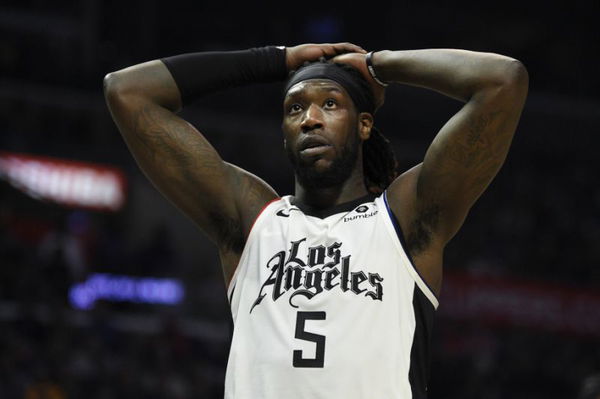 ---
---
Teams have been gearing up for the much-anticipated NBA restart by holding practice sessions inside the Orlando bubble. Amid the preparations, the LA Clippers have taken a huge blow. The team's center Montrezl Harrell has reportedly exited the Disney World Resort campus. 
ADVERTISEMENT
Article continues below this ad
26-year-old Harrell has an urgent issue to attend to and thus he will no longer be inside the bubble till his situation resolves. Shams Charania of The Athletic updated that Harrell has immediately left the bubble for an "emergency family matter."
Clippers' Montrezl Harrell has departed from the Orlando bubble for an emergency family matter, sources tell @TheAthleticNBA @Stadium.

— Shams Charania (@ShamsCharania) July 17, 2020
ADVERTISEMENT
Article continues below this ad
Moreover, HoopsHype captured Harrell's recent Instagram stories and posted it on their page. The two screenshots that were posted reflect the 6'7" center's state of mind when he exited the NBA bubble. 
Clearly Harrell has left the bubble to be with his grandma. Though the exact scenario of the situation is not available, Harell expressed a lot of sorrow over his IG story, which might reveal the seriousness of the situation. 
Harell would return to the bubble at the later date and would have to undergo mandatory testing again. Besides that, the North Carolina native also has to isolate himself for a brief period that can last up to four days. 
Are the LA Clippers facing a roster crisis at the moment?
ADVERTISEMENT
Article continues below this ad
The LA Clippers have a huge hype surrounding them at the moment. They are foretold to be the team that can upset the Lakers in the western conference. This doesn't come as a surprise at all. But is the entire Clippers roster together inside the bubble? 
The Clippers are not enduring the best of times. Three of the team's players, Marcus Morris Sr., Landry Shamet, and Ivica Zubac are not with the rest of their colleagues inside the bubble. This leaves the head-coach Doc Rivers in a crippling state and the 58-year-old has remained discreet about the situation. 
I don't even know, to be honest," Rivers said. "I don't even check. JaMychal walked in and surprised the hell out of me… Because they're in quarantine and stuff, you don't ever know."
ADVERTISEMENT
Article continues below this ad
The recent arrival of JaMychal Green is certainly a small boost to the team. However, the sudden departure of Harrell and the absence of the three above-mentioned players will still remain to be a dent on the roster. 
With the season starting in less than two week's time, the LA Clippers need their complete roster back in order to step out and compete with all their might. Without backups for the starters, the team would be incomplete.