Utah Jazz the Biggest Threat to Los Angeles Lakers? – "They Have Everything"
Published 02/12/2021, 7:24 PM EST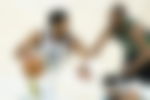 ---
---
The Utah Jazz have been one of the biggest surprise packages this season. Despite teams like Los Angeles Lakers and LA Clippers, they have dominated the stacked Western Conference and are the first seed with 20 wins and 5 losses.
ADVERTISEMENT
Article continues below this ad
In a league dominated by superstars, the Jazz haven't been a team with a single superstar like LeBron James. They have rather been a great team with an all-round performance this season.
Kendrick Perkins confident that Utah Jazz are contenders
ADVERTISEMENT
Article continues below this ad
While they have been amazing throughout the year, pundits still have a doubt whether they are legit challengers or not. Former NBA champion Kendrick Perkins has no doubt whatsoever. In a recent episode of the Jump, Perkins claimed that the Jazz are the biggest threat to the Lakers in Western Conference.
He said, "There's one team in the West that could beat the Lakers and the West and challenge them is the Utah Jazz. When I look at this team, this team is not lacking at nothing."
"They have everything. You want defense; they rank top five in every statistical category. You want offense; they rank top five in every statistical category, and then they have a head coach who I think doesn't get enough praise in Quin Snyder, who's a hell of an X's and O's type guy."
Perkins also analysed the talented roster Jazz have. He said, "When you look at their roster, they have shooting in Bogdanovich, Jordan Clarkson, who in my opinion is a six Man of the Year candidate who's leading the league in scoring off the bench right now. You have Joe Ingles, okay. Rudy Gobert, a Defensive Player of the Year technically."
"They have Derrick favors a backup center. That's they've come in and they don't like a deposition. Mike Conley is starting to play like the Mike Conley that we saw in Memphis and Donovan Mitchell, he has took a tremendous leap. We all know that he could get buckets."
He continued, "We witnessed that last year in the playoffs, but now he's taken another step and making guys better. He's at he's dropping dimes. He's creating passes on time on target. So if it's any team in the West, right now, today, that could challenge the Los Angeles Lakers and beat them is the Utah Jazz."
Can the Jazz dethrone the Los Angeles Lakers
The Jazz have one of the most balanced rosters in the NBA. They have great ball handlers who can create their own shot; they have prolific shooters and a DPOY candidate in Rudy Gobert.
ADVERTISEMENT
Article continues below this ad
Their red hot form has been due to their fantastic three point shooting this season. In the 25 games they have played, they have shot 40.2 % from the three point line from an average of 42.3 attempted threes.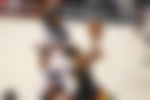 But the real challenge will be how they fare in games were their shooting boots are missing. Can the Jazz succeed without their three point shooting?
ADVERTISEMENT
Article continues below this ad
On paper they have excellent shot creators, but can the likes of Mike Conley and Donovan Mitchell thrive against the Lakers or the Clippers in a seven-game series?