"It Drives Me Crazy": Miami Heat Legend Reflects on the Game-Changer Shot in 2013 NBA Finals
Published 08/29/2020, 8:12 AM EDT
---
---
The time that Miami Heat actually gained a reputation of a dangerous team would probably be in the 2010s. This was when LeBron James, Chris Bosh, and Dwayne Wade came together in the team. But how can we possibly forget Ray Allen's spectacular three-pointer in the dying seconds of the fourth quarter that led the team into overtime in the 2013 NBA Finals against the San Antonio Spurs?
ADVERTISEMENT
Article continues below this ad
In the recent newsletter by Chris Bosh, he covers 'The Rebound' and the shot that came after it. Now we all have heard Chris Bosh's side of the story and his take on the offensive rebound and his pass to Ray Allen. Let's hear Ray Allen's take on their miraculous triumph over the Spurs in 2013.
Ray Allen wanted to prove everybody wrong
ADVERTISEMENT
Article continues below this ad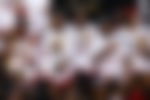 It all started with a missed shot by LeBron James, followed by Bosh grabbing an offensive rebound and a pass to Ray Allen who dropped a three and sent the Miami Heat into overtime. Recently, Bosh interviewed Allen to get a chance to review some unanswered questions.
Bosh asked, "In interviews in the past, you've called the shot the "heaviest moment" you've ever experienced. Why do you think the stakes felt so high for us? Were you thinking about what happened if it didn't drop? "
Ray responded, "If I don't make that shot, it's pretty easy to say that we don't win the championship—and things happen differently moving forward. It changes a lot about history. I was going to be a free agent. I had player options; LeBron had player options. If he decides to go somewhere else, it's a house of cards—everything crumbles. But we also knew that sometimes you get beat by a better team, and you tip your hat and move forward."
Bosh continued and said, "And we knew this couldn't be one of those times! To this day, I get chills replaying the shot in my head. It drives me crazy—any small detail could've thrown the whole thing off."
Ray described the pressure he felt and said, "By the time I got to Miami, I was driven by winning more than ever. There was so much hate from everybody that didn't want the Heat to win. Half of Massachusetts—no, all of Massachusetts—was rooting against me. So we needed to win that game."
Miami Heat made it count in the last few seconds
The defeat was right before their eyes but Heat really proved that every second in the game counts for something. Ray Allen's three-pointer could be considered one of the most important shots ever made and nothing but the pure joy was seen on all the Miami fans when the unexpected shot actually came through.
ADVERTISEMENT
Article continues below this ad
Have a look at the historic moment:
ADVERTISEMENT
Article continues below this ad