"It's All About Winning": Brooklyn Nets Guard Praises Veteran Jamal Crawford
Published 09/16/2020, 8:43 AM EDT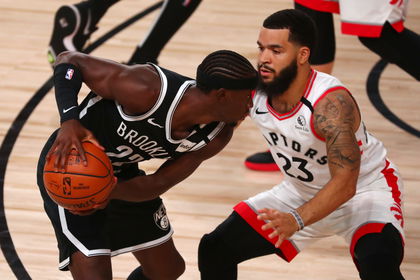 ---
---
The 2020-21 season will be special for the Brooklyn Nets, they will be one of the top contenders for an NBA title in the East. During the 2019 offseason, the team signed Kevin Durant and Kyrie Irving to lead the team. Moreover, now Steve Nash has joined the team as a head coach. It feels like the sky is the limit for this team in the coming season.
ADVERTISEMENT
Article continues below this ad
Despite having an average year in the league, the Nets still clinched a playoff spot. Although they were eliminated in the first round, the team found a potential third star in Caris LeVert. LeVert produced 20.3 points per game, along with almost 10 assists in the 2020 NBA playoffs.
Also, the team signed veteran Jamal Crawford, and it has proved helpful for the Nets. Caris LeVert recently appeared on The Ringer podcast, where the 26-year-old revealed what he has learned from the vet so far.
ADVERTISEMENT
Article continues below this ad
"Winning and I would say that, growing up I always prioritized winning and I've always looked at myself as a winner but with him, it's all about winning. You would think he's such a flashy player, he's got the handles and jumpshot, you would think like he doesn't really care, like that's all he cares about is winning.
"You know when he was younger, he was around Michael Jordan a lot. So, I think- think that's where he got it from and he said Mike was always about winning."
Jamal Crawford has been in the league for almost two decades now. And when a player spends so much time in the league, they can have a positive effect on the team. The veteran leadership could prove very beneficial for the Nets in their quest for a title.
Are the Brooklyn Nets the team to beat next season?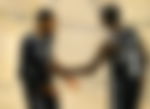 When KD and Irving joined forces, the expectation went through the roof for the Nets. However, in their first season together, KD was still recovering from a gruesome injury. While Irving himself faced injury troubles for almost the entire season.
ADVERTISEMENT
Article continues below this ad
But next season, the team will be healthy and under the direction of Steve Nash, who will debut as head coach. All things considered, the Nets have a strong supporting cast with two superstars and they should perform at an elite level.
However, it is uncertain how things will pan out for the team. Regardless, winning the NBA championship should be the top priority for the team.
ADVERTISEMENT
Article continues below this ad
Do you think they can achieve this feat? The next few seasons will be the best opportunity for the Nets to win the first championship in franchise history.