"It's Got a Gold Star": Lakers VP Slams Critics With a Befitting Reply
Published 10/25/2020, 1:00 PM EDT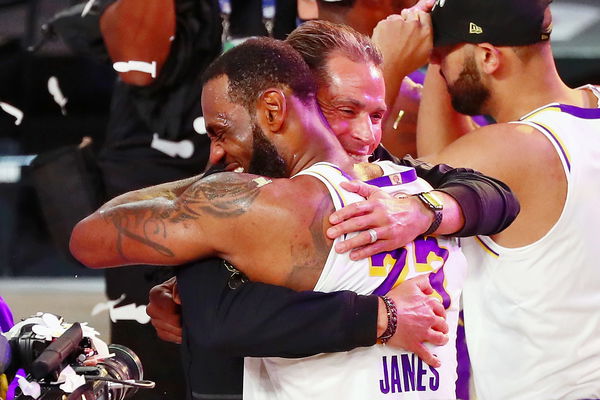 ---
---
Recently, the Miami Heat president made some controversial comments about the Lakers winning the 2020 NBA championship. Riley believes if it weren't for injuries to Bam and Goran, they would have pushed the series to seven games.
ADVERTISEMENT
Article continues below this ad
Moreover, apart from Riley in the last few weeks, many believe this Lakers ring will always have an asterisk in front of it. Vice President Rob Pelinka gave a fitting reply to critics via The Woj Pod.
"I spend a lot of time kind of thinking through what lens you're viewing things through. And for me, this one is 'let's count the blessings instead of the losses.' Like it's easy to think about 'oh, we didn't get to have a parade, or we didn't get to do this yet.
ADVERTISEMENT
Article continues below this ad
"But to be able to have won a championship inside a bubble, and to be with the guys and the staff for 100 days in a row. Also provided some extraordinary moments that probably future champions will never be able to experience because it was such a unique setting."
Pelinka further added about potentially having an asterisk ahead of this championship run.
"I think some have (asked) 'will this championship have an asterisk on it?' I like to say 'no, I think it's got a gold star.' Just because you had to do so much more to get to the end, and I think it was just a testament to our team (and) the players and our staff coming together in that environment."
ADVERTISEMENT
Article continues below this ad
Pelinka does have a good point for his argument. It was not an easy task by any means to win an NBA Championship in these circumstances. The COVID-19 pandemic made it almost impossible for the season to resume.
Was this Lakers ring the easiest one for LeBron James?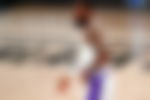 In simple terms, yes, this was bar far the easiest championship that King James has ever won. However, in the majority of his 10 finals appearances, James' team has been the underdog. Winning this title should not take anything away from him or the team.
ADVERTISEMENT
Article continues below this ad
Moreover, LeBron James had a terrific run in the playoffs, averaging 27.6 points per game throughout the pandemic. Next year, the Lakers will have a shot to defend their title fair and square. Maybe, if the purple and gold win back-to-back rings, it will put these narratives to bed?