James Harden's Mother Provides Clear Reasoning Why He Considered Leaving Houston Rockets
Published 12/08/2020, 12:00 AM EST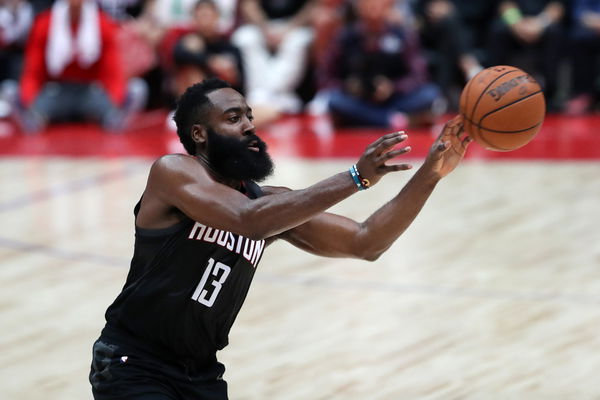 ---
---
It is time James Harden gets his acts together if he wants to have a prolific next season. He is being a tough kid for the Houston Rockets to handle. The fans, too, are getting restless, because it has been a month since the news of him wanting to opt-out surfaced.
ADVERTISEMENT
Article continues below this ad
The Beard got on everyone's nerves when he missed the individual and the team workouts with the Rockets ahead of the 2020-21 season. The fact that he rather went to a birthday bash acted as salt to the injury of the Rockets franchise. So is the 8-time All-star is forcing a trade?
ADVERTISEMENT
Article continues below this ad
A different James Harden and the way he is directing the vehicle
In a recent reaction to the hate he has been receiving on social media, Harden's mother (also his agent) expressed, "He is doing what is best for his career. Please pay attention and understand. He has worked hard every time he suited up for his job, giving 210 percent. He ask[ed] for a chance to get a ring, that's it. Anyone in their right mind in this bus[iness] would want that."
She was perhaps hinting towards an NBA title that is still far from the grab of the multiple-time regular-season point leader. James has played alongside players like Chris Paul, Dwight Howard, and Russell Westbrook for the Rockets franchise. But each time, the franchise had to do away with these pieces to put new pieces to support Harden's ambitions. 
Today, the situation is different, where Harden is seemingly looking the least interested in playing for the Rockets. A recent tweet from a verified sportswriter further reveals why James is allegedly wanting a move. Also, that comparison with the Knicks just didn't go well with so many Rockets fans. 
Some news: A person familiar with James Harden's thinking described the Rockets' culture as toxic and called them the "Knicks of the South."

— Rohan Nadkarni (@RohanNadkarni) December 7, 2020
How will this affect Rockets' coach Stephen Silas if he gets traded?
ADVERTISEMENT
Article continues below this ad
The entire Rockets front office is new. They have a new coach in Stephen Silas and a new General Manager in Rafael Stone. So naturally, whatever it is that James had against the former front office must fade away because it's all about the revamp now. Moreso, they have John Wall and DeMarcus Cousins to further make Harden feel he can still win that title. 
But nothing seems to be making Harden happy, even as he has promised to show up for practice. This can be a tough nut to crack for the rookie head coach because if he remains too lenient on Harden, it will set a bad example for the rest of the team. 
The Rockets will play Chicago Bulls and the San Antonio Spurs in the preseason games. Then they have their opener against OKC. As far as their options are concerned, they still have Harden tied for a three-year remaining on his max contract. He definitely has the choice to use his player option next off-season, but the keys to his upcoming season are in the hands of the Rockets. 
ADVERTISEMENT
Article continues below this ad
However, if James keeps pulling such unprofessional behavior and continues to show his interest in moving to the teams better equipped to win a title, the Rockets might consider relieving him. All this, because it now appears that Harden won't be the Kevin Garnett who played with the Timberwolves for 12 long seasons, knowing he was far from winning with them. The Beard is just different and his side of the story will soon come out.