When the NBA resumes on July 30, the Los Angeles Lakers have a chance to do what they haven't done in a decade; Bring home the Larry O'Brien Championship trophy. With superstar LeBron James on their team, it looks possible. When he is locked in, it is tough for the opposition. But due to this on-court seriousness, teammate Jared Dudley says that people don't realize what a "goofball" he is off-court.
During a zoom call with reporters on Friday, Dudley shared how James is during group chats. "LeBron is a goofball. We all have different personalities. He is someone who keeps it lighthearted. He's the one entertaining, being funny, and every now and again he'll say something serious; checking on your families, making sure everyone's right."
For Dudley, LeBron James is the Alpha
Dudley shared how LeBron cares for his teammates like a parent. "Sometimes it's kind of like a father looking at his son, looking at you a different way. For LeBron, he's the leader, he's the alpha, but he's 50/50. He jokes just as much he's serious. He keeps it really even balanced. So for him, he's ready for this moment. You can tell. You can see it in his beard that he's ready."
When he's on the court, he's a killer. Averaging 25.7 points, 7.7 rebounds, and 10.6 assists per game, he has been leading the Lakers charge to number one seed in the West. But off-court, he's shown his caring and entertaining side, whether it was giving away his iconic number 23 to Anthony Davis when he joined the Lakers or cheering and goofing around during Dwyane Wade's final NBA game.
"We have a brotherhood that's just so much more than basketball."

–@KingJames said he couldn't miss @DwyaneWade's #OneLastDance pic.twitter.com/X4LaxpcV7m

— ESPN (@espn) April 11, 2019
After arriving in Los Angeles, the Lakers missed the playoffs in his first season. It was the first time since 2005 that LeBron was not a part of the NBA postseason. But it was also the first season in which he played less than 60 games. He had injury troubles, and critics said that age was catching up to the 35-year-old.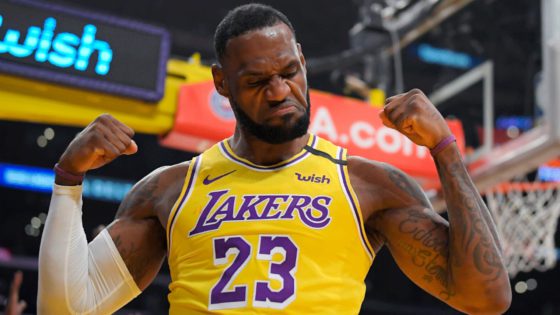 But this season, he has proved that age is just a number for him. He has been playing at an MVP level and is the second favorite to grab the trophy after last year's winner,
Giannis Antetokounmpo
. With him leading alongside Davis, the Lakers are one of the favorites to win the title in Orlando.