"Tone-Deaf": Former Bulls Player Taunts JR Smith, Rajon Rondo and Other NBA Players Complaining About Orlando
Published 07/13/2020, 6:30 AM EDT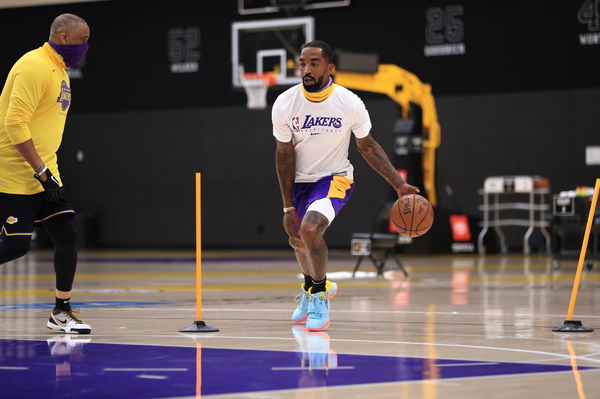 Since arriving for the NBA return in Orlando, a lot of players have taken to social media to complain about the facilities. Before officially entering the bubble, they had to spend two days of quarantine in a hotel nearby. During this stay, players posted pictures and videos of them complaining about the food and their rooms.
ADVERTISEMENT
Article continues below this ad
Due to those comments, former player and now analyst, Jay Williams lashed out at those players. In a two minute video on Twitter, he said, "My NBA brothers, you cannot be tone-deaf right now in this current environment. We all know the life that NBA players live, you are blessed, get a chance to be on planes, get a chance to have millions of dollars in your bank account, you live a different level of life. But that is drastically different than what real everyday working Americans are going through right now."
We all have the right to complain but doing it publicly is different issue. I don't need some of my #NBA brothers complaining publicly about quality of living & food accomodations in a billion dollar bubble during a pandemic. Tell me your thoughts. pic.twitter.com/cm9JARkmO0

— Jay Williams (@RealJayWilliams) July 12, 2020
ADVERTISEMENT
Article continues below this ad
Are NBA players acting too spoilt?
Williams went on, saying that players should think about people living in much worse environments. "You're in a billion-dollar bubble. If you want to complain about the anxieties you have from COVID-related issues, I get it, complain about that. But when I hear NBA guys complaining about living facilities, food that they have being delivered to them, it is tone-deaf. Think about people who are everyday working people who are making minimum wage trying to make ends meet that are going to really harsh working environments."
The first pictures that went viral from the bubble were the food pictures that Denver Nuggets guard Troy Daniels shared. Later, Los Angeles Lakers' new addition JR Smith went live on Instagram to complain about the room and the food. Then Rajon Rondo complained about his hotel room, comparing it to a Motel 6 room.
ADVERTISEMENT
Article continues below this ad
South Carolina Basketball coach Frank Martin also hit out at an anonymous player who called the food being served as "trash."
You might want to tell that spoiled brat that there's a whole lot of people in the world that would give anything to eat that meal

— Frank Martin (@FrankMartin_SC) July 11, 2020
ADVERTISEMENT
Article continues below this ad
There is no doubt that these players are used to much better facilities, and they have a right to complain as Williams said. But doing it publically sets a bad example for fans across the globe who are used to much worse conditions.