Jayson Tatum is Fired Up Against the Heat After Reuniting with Deuce in the NBA Bubble
Published 09/15/2020, 8:25 PM EDT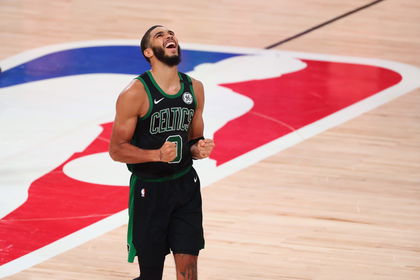 ---
---
Two-year-old Deuce just met his dad Jayson Tatum after a gap of several months. The father and son duo are adorable, and the little man is firing up his dad with his presence in Game 1 between the Celtics and the Heat!
ADVERTISEMENT
Article continues below this ad
Tatum and Deuce shared a heartwarming moment when the 22-year-old received his son with wide arms and a warm hug a few hours before the game. Unlike other teams, the Celtics waited till the conference finals to invite their families inside the bubble, and the long wait has been a painful one for the team. 
ADVERTISEMENT
Article continues below this ad
But now, the Celtics came into Game 1 with their families in attendance. Most importantly, Jayson Tatum had Deuce to cheer him on during the ballgame. And Deuce, a handsome young man, was shown on the camera during a moment in the early minutes of the game. 
He was rooting for his dad from the sidelines and seemed vivacious. The little kid is a major motivating factor for Tatum to perform better and reuniting with him after nearly five months would give him all the strength and confidence heading into a crucial fixture. 
Jayson Tatum even displayed his love for his son through his sneakers. The Celtics star drew a heart and wrote Deuce's name on the back of his Air Jordan 34 "Chinese Takeouts." 
Moreover, Tatum fired early in the game to give Boston a swift lead in the first quarter. 
Jayson Tatum keeps proving he's a certified baller! 
We've seen Tatum's fadeaways far too many times already, and it never gets boring. It is a joy to watch him make that shot every single time. As Game 1 tipped off, Tatum got into the groove early with some terrific efforts. 
Boston climbed to a quick lead in the first quarter, and a beautiful three-pointer from Tatum smoothly added to their advantage. He made the shot from a quick move against Kendrick Nunn, who had no chance of guarding it. 
ADVERTISEMENT
Article continues below this ad
Jayson Tatum is proving to be a dominating presence on both ends of the court. He's been a major contributor towards the Celtics' tough defense in the Playoffs. They've so far been the better team in that aspect, and Tatum has been brilliant with scoring too.
ADVERTISEMENT
Article continues below this ad
He carries an average of 25.3 points in the 2020 postseason and had an excellent series against the Raptors. But now, the Heat poses a different challenge altogether. Can Tatum and the Celtics run past Miami and earn a finals ticket for the first time in ten years?