John Wall Vows to Return to All-star Levels As He Bids an Emotional Goodbye to Washington Wizards & Their Fans
Published 12/08/2020, 8:00 AM EST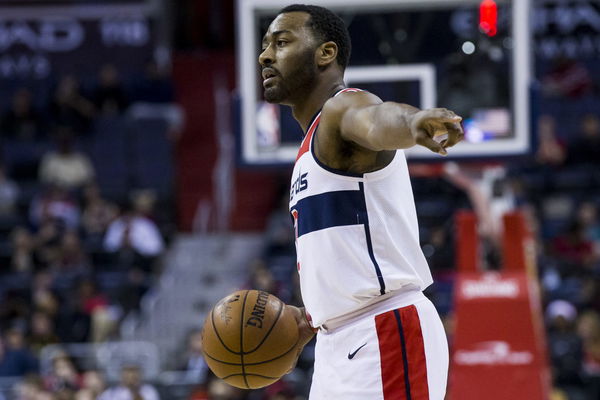 ---
---
Just as a regular office goer switches jobs or seeks promotions looking for career growth, many NBA players also go through a similar transition. But such decisions never come easy when it means leaving the organization that hired you as a rookie. Former Wizards player John Wall recently found himself in one such position.
ADVERTISEMENT
Article continues below this ad
John's performance for the Wizards took a hit in the 2017-18 season when he showed issues with his left knee. The problems grew the following season when a hip injury and later a ruptured Achilles sidelined him. These issues ensured that he played only 73 games in the last three years. As a result, it became an easier decision for the Wizards to let him go. They instead acquired Russell Westbrook in return in a welcome move.
John Wall had a memorable decade with the Wizards
ADVERTISEMENT
Article continues below this ad
The 30-year-old had a great run with the Wizards, and nobody had imagined that the two would part ways. In a recent interview, he laid out his respect for the franchise and expressed, "It still feel surreal to me, not to be in that building, not to be in that uniform and being able to know where I'm going and driving the car being to see certain places and certain things I used to do. I did it the best way I could, I tried to go say my goodbyes to everybody, showed my respect, supported me through my 10 years being there."
Later, Wall reflected on his successful rookie year. The league included him in the All-rookie 2010-11 team for averaging 16+ ppg, giving a flying start to his career. He added, "June 25th, 2010, when I first got off that limo and walked on the red carpet and walked into that, it was a [indiscernible] center then, but there was a cap on the arena. I had chills, I was a skinny kid, 19 years old with no facial hair and didn't know where I was going in life. They watched me grow up and be this grown man that has two beautiful boys, that has a family at home."
Why arethe Houston Rockets the best fit for him?
ADVERTISEMENT
Article continues below this ad
Considering James Harden stays with the Rockets for at least one more year, John has a great partner to count on. Moreover, the Rockets also have DeMarcus Cousins with them this season. John already shares a great camaraderie with the former Warriors player.
Moreso, Wall is keen on making a fresh comeback by potentially winning his 6th NBA All-star selection. The phenomenal defender in John will add some extra edge to the Rockets, even during the postseason. At least his comments reflected just that. He detailed, "I wish that team, that organization, the best luck this year, but my main focus is with my new team, the Rockets. I'm trying to accomplish and come back and be an All-star."
ADVERTISEMENT
Article continues below this ad
With coach Stephen Silas believing it will be a "joy to coach" Wall, do you think the Rockets will have a title shot?