"It was Tough": How a Teammate's Ridiculous Mistake Led to LeBron James Becoming an Internet Meme
Published 05/31/2020, 6:34 PM EDT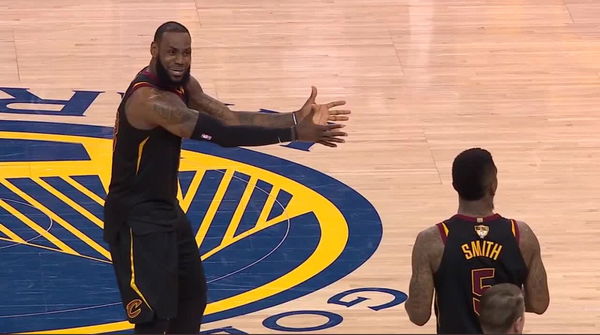 ---
---
Game 1 of the 2018 NBA Finals might be something that JR Smith would never want to remind himself. It was when LeBron James was looking to lead his hometown club, Cleveland Cavaliers, against the defending champions Golden State Warriors.
ADVERTISEMENT
Article continues below this ad
With just seconds left in the Game 1 and scores tied, JR Smith grabbed an offensive rebound off a free-throw. But instead of shooting, Smith dribbled out as if they were leading. The Warriors eventually won the game n Over Time.
Smith's actions in the finals seconds brought a reaction from LeBron James that immediately became a meme on social media. Apparently, the game took place on May 31, 2018.
ADVERTISEMENT
Article continues below this ad
A few LeBron James – JR Smith memes
The Warriors eventually won the title in four straight games. Talking about his infamous moment later, Smith said it was tough but his teammates supported him.
ADVERTISEMENT
Article continues below this ad
"I've messed up so many times in my life," Smith told ESPN's The Undefeated. "I mean, I can't just point at one thing to be mad at."
"It was tough, but it was the same after Game 2, 3, and 4. I didn't take it no harder than those losses just because I made a mistake," Smith told The Undefeated. "We all make mistakes. For my teammates to know that and have my back, (Game 1) wasn't that bad.
"Talked to my coaches, everybody stood behind me 100%. The main thing was, OK, granted, you didn't shoot the ball, but what if you ain't get the rebound? Then what? We still would have been in the same situation. I could have shot and missed. Then what?"
ADVERTISEMENT
Article continues below this ad
The loss for the Cavaliers meant LeBron James wasn't winning his fourth title. After the season, he moved to Los Angeles Lakers after playing four years in his second stint with the Cavaliers. With James, and later Anthony Davis, the Lakers have become one of the top contenders for the title this year. However, the league currently remains suspended while talking about alternatives for resumption.