Kevin Durant and Kyrie Irving Linked to Firing of Kenny Atkinson
Published 03/09/2020, 12:42 PM EDT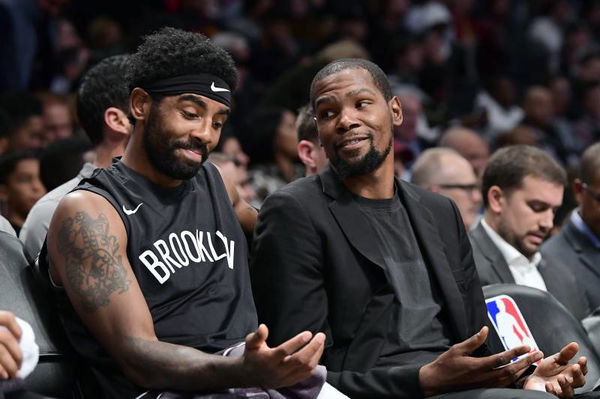 The league is driven by superstars. So, when the Brooklyn Nets announced that the team and head coach Kenny Atkinson were mutually parting ways, attention turned to Kevin Durant and Kyrie Irving. What was their role in this decision? Because if they wanted Atkinson to remain head coach the organisation would never make such a decision.
See More | Kenny Atkinson Firing: Owner Consulted Players Before Making the Decision
Kevin Durant and Kyrie Irving with Kenny Atkinson
ADVERTISEMENT
Article continues below this ad
It was that last week that  Atkinson and Nets players had an honest discussion regarding the tension within the team and their recent performance. Players expressed their frustration with the rotations. It was the choice of making Jarett Allen starting centre over DeAndre Jordan that set all this off.
Durant mentioned that they are not building a winning culture for the team. This is in complete contrast to what he said to when he came to the Nets. As his reason to come to Brooklyn was the team's culture and atmosphere. This showcases the underlying issue of the disconnect between Atkinson, Durant and Irving.
Atkinson was dismal after the team meeting. When he met with general manager Sean Marks, Atkinson said to fire him now rather than keep him around like a proverbial lame duck for the remainder of the season.
ADVERTISEMENT
Article continues below this ad
Atkinson's main failure would be one of communication. Players expressed their dissatisfaction with a lack of consistency in the team hierarchy, particularly in recognising everyone's role
Interim coach Jacque Vaughn's first decision after taking over the role was to make Jordan the starting centre. This was a sign of existing tension during Atkinson's tenure. This didn't seem like an issue at the time. That was because DeAndre said all the right things in the media at the time. 
With Durant and Irving back healthy, the next coach will have a job far easier than the one Atkinson had in 2020-21. We'll never get to know whether he has the acumen to make it work or if the Nets simply got ahead of the inevitable.
ADVERTISEMENT
Article continues below this ad