Kevin Durant Savagely Dismisses the Argument that the Knicks are Better than the Brooklyn Nets
Published 10/26/2020, 12:51 AM EDT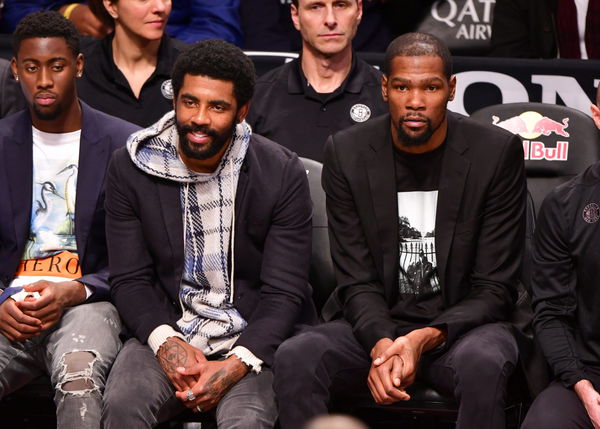 ---
---
Kevin Durant is yet to play in the Brooklyn Nets jersey, but his commitment to the franchise already looks strong. Earlier, the news was hot that it was Durant who might have influenced the Nets to hire Steve Nash as the head coach. 
ADVERTISEMENT
Article continues below this ad
This proved that Durant has a say in the organization's key decisions. KD is not an average player who will settle for less. The Brooklyn Nets really hold a good chance to make a huge comeback this year, but some social media personalities believe otherwise.
When Kevin Durant came to the rescue of the Brooklyn Nets' image
ADVERTISEMENT
Article continues below this ad
In a Twitter post, a comedian with more than 373K followers tried to mock the Brooklyn Nets. He wrote, "The Knicks >>>>> the Nets". Just as this tweet began to pick traction, it came to the notice of KD. To this unforeseen mocking, the Nets star responded by stating, "Any comedian >>>>>> you".
This comment by Anthony Isaacs was comedy to the ears of Nets fans. Kevin Durant's response to the tweet showed his loyalty to the Nets. Kevin has never averaged south of 25 ever since his rookie year ended. He makes for a great forward who would definitely add weight to the Nets' starting line-up.
ADVERTISEMENT
Article continues below this ad
Can the New York Knicks catch up?
Amongst other options, the Knicks will have the choice to trade their pick 8 in the NBA Draft to the Boston Celtics and acquire pick no. 14, 26, and Romeo Langford. They also have the option to land point guard Killian Hayes who is a left-handed playmaker that can benefit their rookie aspects. He isn't off LaMelo Ball's caliber, but he can still be of immense help. 
ADVERTISEMENT
Article continues below this ad
Given that the Knicks have not seen the face of post-season for seven years, they are still far from becoming anyway comparable to the Nets. Last season, the Knicks were 21-45 while the Nets still entered the playoffs without KD and Kyrie Irving. This puts the Nets in a better position when compared to the limping Knicks.
Hence, KD's befitting response seems perfectly on point, as of now.