Knicks Star Evan Fournier Roasts Kevin Durant's Look
Published 08/16/2021, 3:20 PM EDT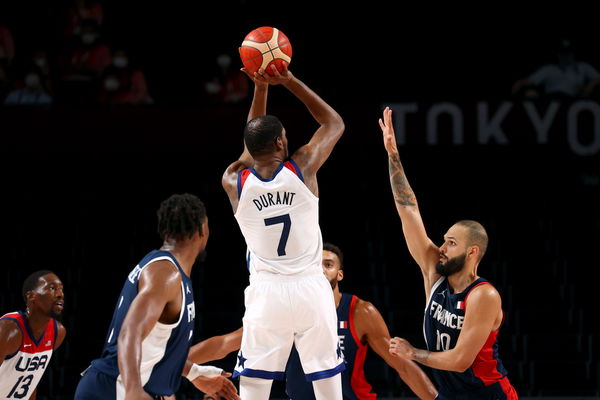 ---
---
Kevin Durant had a staggering run in the Tokyo Olympics 2020 for the USA. He led the team to a gold medal with some crucial performances. Moreover, he brought his tally total to 3 for the number of Olympic gold medals. This tied him with Carmelo Anthony for the most gold medals won by a male basketball player in US history.
ADVERTISEMENT
Article continues below this ad
Well, there's a reason he gave himself the name "Easy Money Sniper" in the NBA and it stuck. The Former MVP has seen a lot of glory in the NBA. Be it as Championship Rings, Top Scorer of the Year, or as an MVP. Name any offensive statistic and Kevin Durant's name somehow always comes in the top levels.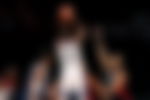 However, with the stardom, also come loyal fans. Fans who don't hesitate in bringing up his name in every discussion even remotely related to basketball. Especially in the age of social media, with connectivity being at it's peak. It gets tough even for professional players to not indulge in such harmless banter online.
ADVERTISEMENT
Article continues below this ad
Evan Fournier's Tweet Gets Banter Responses on Kevin Durant
Evan Fournier is a French Shooting Guard who recently signed for the Knicks. Recently, he took to Twitter to get suggestions for a good barber in New York City. He received responses from Fans that involved the Brooklyn Star Forward's name.
Now I need the best barber in NYC. Cuz I need help lol

— Evan Fournier (@EvanFourmizz) August 16, 2021
He could not stop himself from indulging when a fan responded with the following tweet. The fan took a dig at Evan Fournier and France on their defeat in the Olympic Finals to USA.
Fella named Kevin. He's in Brooklyn. He cut ya up in Tokyo. Maybe he can do it again?

— D (@KevPKing) August 16, 2021
However, Evan replied in light spirit by indicating that even Kevin Durant is in the need of a makeover himself.
ADVERTISEMENT
Article continues below this ad
Are we to consider this a beginning of a new rivalry? Of course, tradition and convention compel Nets and Knicks fans to dislike each other. But we can only consider this a rivalry in the making if Kevin Durant responds to this roast.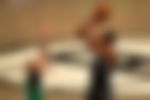 Albeit this could also just be the indulgence of friendly banter between players. Since Nikola Vucevic also responded to Fournier's tweet. Vucevic and Fournier are former teammates from Orlando Magic. Following their disappointing start to last season, Orlando traded all of their experienced players for an array of draft picks and young players. As a result, Nikola Vucevic landed in Chicago Bulls and Fournier went to Celtics.
ADVERTISEMENT
Article continues below this ad