Doc Rivers Confirmed to Meet With Philadelphia 76ers For Potential Head Coach Job
Published 09/30/2020, 2:39 PM EDT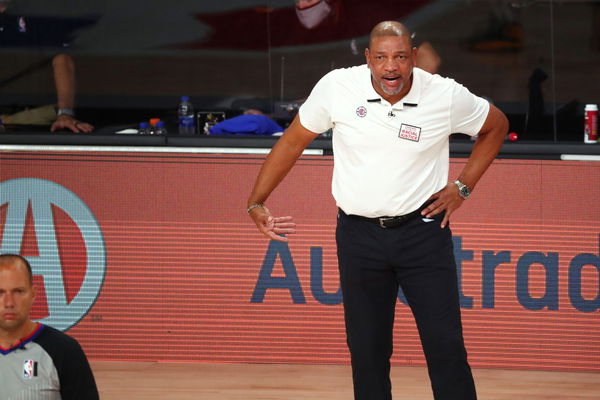 ---
---
With the offseason about to begin, we'll get to see many changes within the teams and its management. However, it looks like the Clippers have already begun their refining process. After an embarrassing postseason, the Clippers had to bear the brunt of a lot of criticism.
ADVERTISEMENT
Article continues below this ad
The main target of this scrutiny were Kawhi Leonard, Paul George, and for the most part, coach Doc Rivers. With hopes to redefine the Clippers' dynasty, Rivers was let go, and the number one candidate waiting to acquire the veteran coach are the Philadelphia 76ers.
Doc Rivers is expected to meet the 76ers
ADVERTISEMENT
Article continues below this ad
The Sixers have been on the lookout for a new coach for quite some time now. They have been linked to candidates like Billy Donovan, Mike D'Antoni, and Ty Lue to replace Brett Brown.
And now with Doc available in the market, the Sixers have been one of the first to approach him. According to Shams Charania, Doc will be meeting with the Sixers soon enough.
Fixing the Sixers could pose a great challenge for any coach that takes over. Ben Simmons and Joel Embiid together have proven to be a disaster on the offensive end, and filling the team with average shooters has only added to the problem.
ADVERTISEMENT
Article continues below this ad
If there is anybody who can get Embiid back into shape and Simmons to shoot three's, it is Rivers. That being said, the 76ers need a guide, and that is a vacancy that the great Rivers is equipped to fill. He holds a startling resume that not a lot of coaches can boast of.
Is this the perfect landing spot for Rivers?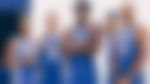 ADVERTISEMENT
Article continues below this ad
Rivers managed to bring the Clippers to the postseason every single time. The only aspect that was missing was infusing the chemistry within their star-studded roster. This is exactly what Rivers will be expected to do with the Sixers. They showcase a lot of promising talents that Rivers could extract in the best way possible.
It was a smart move on the Sixers' part to not hire someone in a hurry. There was speculation that Rivers was going to be available, and now their moment is here. Do you think Rivers will be a good fit?