LA Lakers: GM Rob Pelinka Ready to Reset Timeline for This Season
Published 03/15/2020, 10:33 AM EDT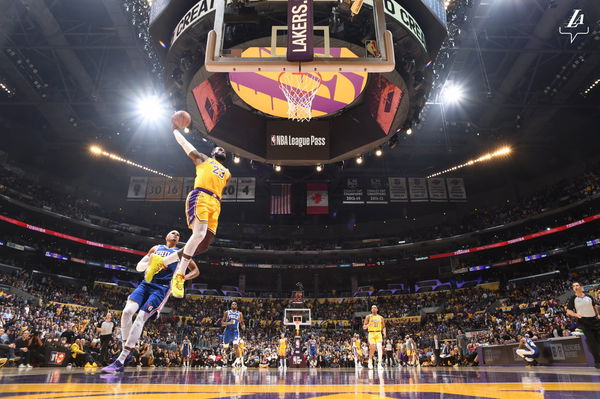 ---
---
NBA owners are definitely feeling the heat now. As the season came to an abrupt end, it sure has taken a toll on their pockets too. Acknowledging this fact, LA Lakers GM Rob Pelinka and other NBA owners are pleading to finish the season. They are even suggesting it to extend as late as August.
ADVERTISEMENT
Article continues below this ad
Recently, NBA commissioner Adam Silver confirmed that the NBA will be suspended for at least 30 days as the league will search for better options during this time period. In the past couple of days, three NBA players have turned positive for Coronavirus. These players include Utah Jazz's Rudy Gobert & Denvon Mitchell and Detroit Pistons' Christian Wood.
If the NBA season goes to August, then there will definitely be a huge conflict of Interest between network scheduling rights holders and other stakeholders in the matter. As NBA season then will definitely clash with the American Football season.
ADVERTISEMENT
Article continues below this ad
But team owners consider this a small issue. As league sources report they are willing to accept the financial loss due to suspended games. But they want to finish the season for the players, fans, and for the love of the game.
Rob Pelinka held a conference call with LA Lakers
Rob Pelinka recently had a conference call with Lakers players where they were informed about the league's current new rules, according to Brad Turner of Los Angeles Times:
Lakers players had conference call with GM Rob Pelinka, Coach Frank Vogel to update on NBA rules during shutdown for coronavirus: no group workouts, only 1-on-1 workout with assistant coach or strength coach. Players can put time in they want to workout. Another call Monday.

— Brad Turner (@BA_Turner) March 12, 2020
ADVERTISEMENT
Article continues below this ad
Later Brad also
confirmed
that Rob told coach Frank Vogel and players that other owners also wanted to finish both regular and postseason.
The thing to remember is that even if conditions remain stable it's highly unlikely that fans would be allowed to enter the arenas during matches. As the thing stands we could possibly be seeing empty arenas during matches for precaution measures.
Amid this crisis, many players have come forward with big paychecks to help those affected due to coronavirus. Including
Stephen Curry
, Kevin Love and
Giannis Antetokounmpo
confirmed that they will donate $100,000 to their respective arena's workers.
Zion Williamson
 also 
pledged
to cover arena staff wages through March. Teams like
Golden State Warriors
have already declared that their owners, players, and coaches will make a donation of $1 million to aid arena employees.
ADVERTISEMENT
Article continues below this ad