Why LeBron James Still Struggles With High Pressure Free Throws
Published 03/31/2020, 4:58 AM EDT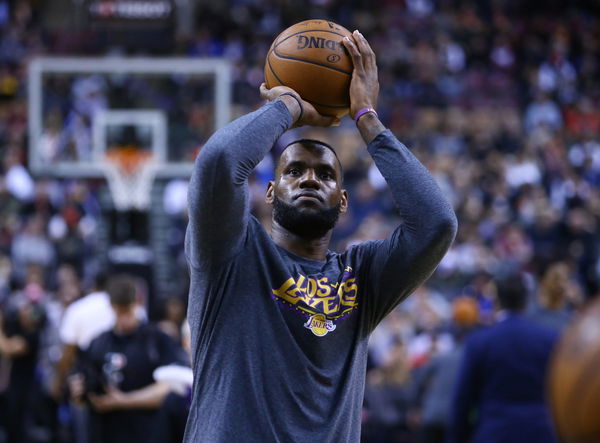 LeBron James is one of the most important players of the Los Angeles Lakers. This season, King James was nothing short of a beast, averaging 25.7 PPG with 49.8% accuracy and 10.6 APG, his highest record. However, despite the player's ability to knock his opponent's socks off, he has had a few struggles on the court.
ADVERTISEMENT
Article continues below this ad
LeBron James and his struggle with free throws
This year, James averaged 69.7% from FT-Line. Which, looking into a player of his caliber, is a mediocre statistic.
ADVERTISEMENT
Article continues below this ad
The player has missed around 2550 shoots from FT-Line. Further, he has scored 48% with free throws during crucial moments. As a result, his teams have had to several face close call losses in the past 17 years of his NBA career.
James displays a certain trait during the last few minutes of his time on the court. He restricts himself from getting aggressive towards inside scoring and plays around the perimeter with his lethal step back 3's.
Avid watchers of the game have observed that during crucial free throw moments, James' upper body disconnects with his lower half The player, as a result, loses momentum. However, when the situation is under control, he has the perfect knee bend along with a stable upper body and clean wrist release.
ADVERTISEMENT
Article continues below this ad
James' issue with crucial throws can be attributed to the pressure the player feels during important moments in the game. Unfortunately, his inability to score costs the Los Angeles Lakers important games. In the last season, the player missed two clutch free throws. His inability to score showed how poorly he adapted to high-pressure situations on the court.
"I go to my spot, I got the shot I wanted, it just didnt go down," said James
Recently, the player started working on his free throws, along with with Los Angeles Lakers Assistant Coach Jason Kidd as a way to better his performance and remain in form during the pandemic lockdown.
ADVERTISEMENT
Article continues below this ad