Lakers' Assistant Coach Narrates the Story of Quinn Cook Being Left Behind Amidst Celebrations
Published 11/03/2020, 8:30 AM EST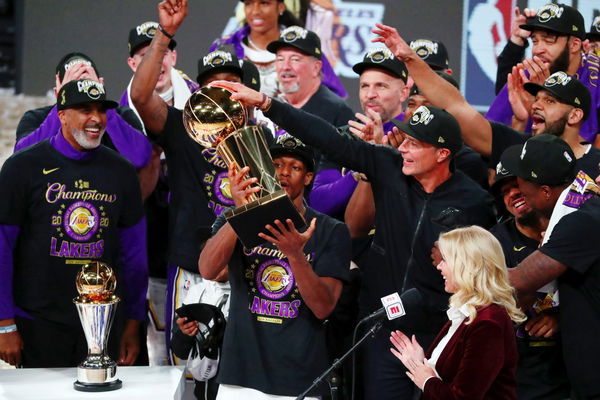 ---
---
The Los Angeles Lakers were over the moon after winning their 17th championship title against Miami Heat. And why wouldn't they be? They got to hold the Larry O'Brien Trophy after an entire decade. The team was so thrilled that J. R. Smith even removed his jersey seconds before they hit the buzzer.
ADVERTISEMENT
Article continues below this ad
Amidst the celebrations, as the team decided to move the party to the hotel, Quinn Cook was accidentally left behind in the arena. This was probably a result of all the champagne and excitement. When J. R. Smith went live on Instagram from the bus, Cook appeared in the comments section and was shocked that he had to walk back after winning a ring.
After this hysterical event went viral on social media, everyone was looking for an answer for Cook's bad luck. Lakers' assistant coach opened up and discussed his side of the story.
ADVERTISEMENT
Article continues below this ad
Lakers assistant coach on leaving Quinn Cook behind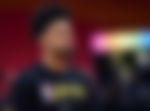 On 'Inside the Green Room', Phil Handy joined Harrison Sanford and Danny Green to discuss various themes around the championship. Then came the much-awaited question. Sanford asked Phil, "You've seen Quinn Cook multiple years in the finals. What happened there? How did a player on a championship team get left?" 
ADVERTISEMENT
Article continues below this ad
Although Sanford knew Phil wasn't responsible for what happened, he still wanted an insight into the story. While giggling, Phil narrated, "Listen, man! Jason Kidd had to save me or I would have gotten left. After all those bottles in the locker room, I was out in the hallway just kind of standing there."
"J. Kidd kind of grabbed me and was like 'Phil! Come on, man! Get on the bus!' said Phil. Hearing this, all three of them started laughing out loud. Danny Green then stated," Yeah, man! That would have been crazy if we would have left two people."
They joked about how QC should have known better and stuck with the crowd. Well, you can't blame the Lakes for wanting to get back to the hotel as soon as possible to continue their celebrations. Even though QC might have had to walk back to the hotel, winning the championship must have clouded his feeling of being abandoned.
ADVERTISEMENT
Article continues below this ad