Lakers Legend Explains Why Talen Horton Tucker is Different From Regular NBA Youngsters
Published 12/15/2020, 2:12 PM EST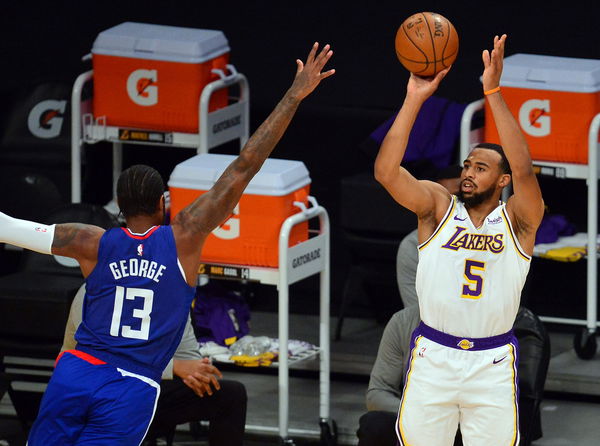 Lakers' guard Talen Horton-Tucker has taken the NBA by storm. With his stunning performances in the two preseason games against the LA Clippers, he certainly has made a statement.
ADVERTISEMENT
Article continues below this ad
5-time champion and Lakers legend Derek Fisher was full of praises for THT. Fisher said, "THT has positioned himself to be one of those guys that Lakers fans and basketball fans are enjoying watching.
"He has earned his opportunity, and he has taken advantage of it and it's good to see and he is playing good basketball."
ADVERTISEMENT
Article continues below this ad
When asked about what makes THT different, Fisher said,  "I think the composure and poise. The numbers are great. For young players, it's rare to slow the game down or slow yourself down sometimes, in particular when you are as talented as he is.
"Young players have a tendency to try to go every play and make something happen, and he seems to have a poise and a composure and the pace that he can play the game that is effective.
"He is aggressive, but it doesn't look like he is forcing it or showing himself out. He is trying to go out and make the right basketball play, and I think that's why his teammates want him to go out and play his game."
The Lakers have strengthened themselves significantly this off-season. The 20-year-old will give them a different dimension altogether.
How important will Talen Horton-Tucker be for the Lakers?
Before the start of the pre-season, no one would have predicted that the 20-year-old Tucker will be the best performer against the Clippers. His performances have certainly guaranteed him much more minutes than last season.
THT only had 6 appearances off the bench and looked decent in the limited minutes. But against the Clippers, he has taken off. He dropped 19 points in the first game and then dropped a monstrous 33 points in the next.
He surely won't be playing anywhere near the 41 minutes he played in the regular season. But he will be crucial as a rotation player. He has already shown how good he is in the offense.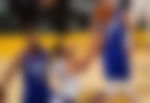 Coach Vogel also appreciated the youngster's defensive potential. Tucker, 6'4, has shown that he is a do- it- all guard as he had 4 steals and 10 rebounds in the second game. He even took the ball off of Kawhi Leonard.
ADVERTISEMENT
Article continues below this ad
The 20-year-old will be a challenge to Alex Caruso, who plays a similar role. THT has similar potential to be an able defender and is a much more complete player offensively.
A condensed fixture list is a bonus for a player like Tucker. The Lakers' coaching staff will try to preserve their stars like LeBron James and Anthony Davis for the most important matches and might rest some. This will be crucial for providing more minutes to a player like Tucker.
ADVERTISEMENT
Article continues below this ad
If THT is anywhere near his preseason form in the regular season, he is bound to be a great rotation player for the Lakers for next season and might even start some matches.